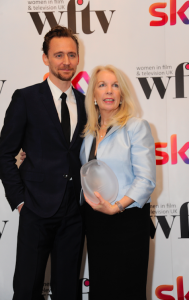 Nominations now open for the Women in Film & Television Awards 2017!
The deadline for nominations is midnight on Wednesday 13 September.  Click here to get your nominations in today!
This is your chance to nominate a great woman for an award. Maybe it's someone you've worked with – a terrific editor, production manager or cinematographer. Or perhaps it's an exciting new talent you've spotted or someone you feel has made an important contribution to the industry over the years. It's your chance to have your say. And the best bit….you can even nominate yourself!
We're getting behind the team at Women in Film and Television because we love what they do for women in British filmmaking and television.
There are thirteen categories of awards from business to craft, project management to producer. A full list of award categories and their definitions can be found here.
The Women in Film & Television Awards 2017, supported by Sky, will take place on Friday 1 December 2017, at the London Hilton on Park Lane. Tickets will go on sale at 11:00 am on Tuesday 03 October 2017.
And if you have any other questions about the awards, you can speak to Jenny Samuels, Awards and Events Producer, Women in Film & TV, via 020 7287 1400  Email: jenny@wftv.org.uk. Or visit: www.wftv.org.uk
Comments
comments