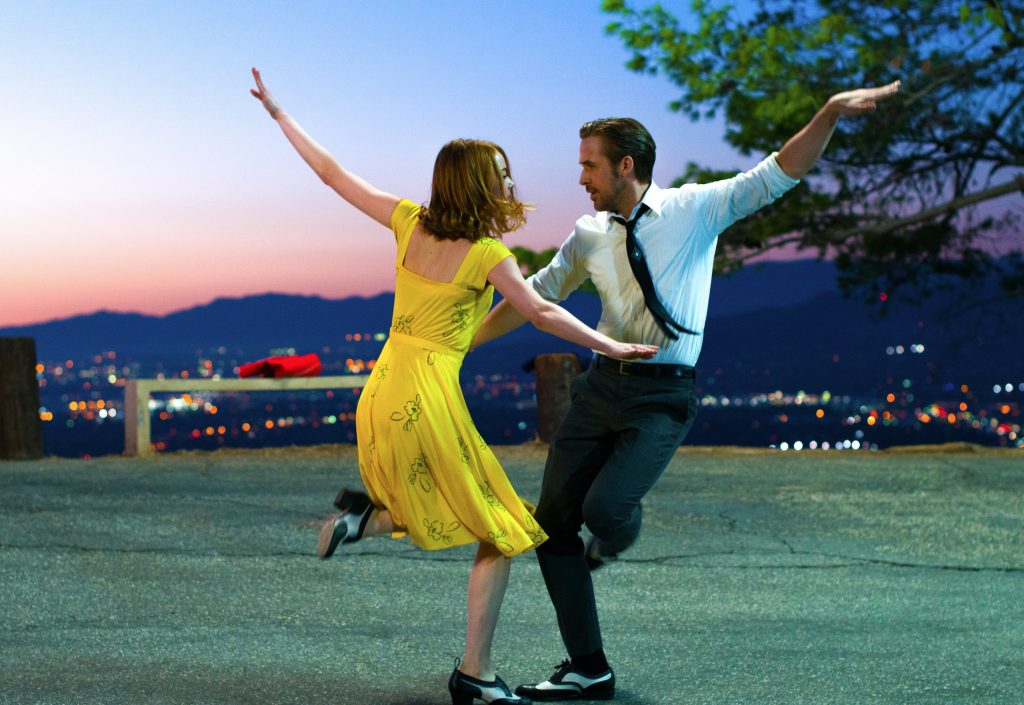 An actor isn't successful unless famous. A musician isn't successful unless they have a bountiful bank account.
The anachronistic movie musical La La Land, filmed in the style of a late 1940s/early 1950s movie musical set in modern day, demonstrates how Hollywood perpetuates a mythical "La La Land" that doesn't exist, but insists to civilians, "This is how the entertainment industry really is." No, it's not.
Young actresses with questionable representation (or virtually no agent) don't get into first-rate auditions or plucked from one-night showcase obscurity into fame as this film pretends is reality. Yet the film, like most third-rate Hollywood portrayals about Hollywood, relies on worn clichés as fact: casting directors are distempered women; directors are cold hearted; young actresses are all white and from Small Town, U.S.A.; jazz musicians are moody (though in this case white); actors would be truly happy if the love of their life gave up their dreams, so they can achieve the success they desire.
You'd think the actors, who daily seek respect for their profession from family and detractors, would demand that Hollywood rise to elevate the portrayal of the journeyman actor. No. On my Facebook feed, I saw actors fawning over the failed-to-impress homage to the glamorous Rogers and Astaire movie musicals. A number of actors are so starved for a portrayal of the profession, even false, they will champion any story about actors even if it's Wonder Bread, idealistic, mythological tripe as is La La Land.
In the entertainment industry an actor doesn't:
Repeatedly get first-class film auditions without having representation.
Have a first-class casting director attend a one-night showcase that has no heat or audience.
Even the portrayal of the Hollywood backlot is a fantasy too far cliché. A saloon set not worthy of a theme park. Actors kissing in a filmed scene, but then when the director calls "cut" the actors are bitterly fighting. And where are the actors or entertainment personnel of color? The swimming pool party scene is more Westchester than West Hollywood.
If this is an homage to the classical Rogers and Astaire movie musicals that are the hallmark of cinema glamour of the 1940s, La La Land fails in its unglamorous casting. Further disappointment comes during a promising opening number winking as a hallmark to movie musicals, but then fails to drive the story as stalled drivers dance on a freeway. An opening number in a musical is to inform the audience of the story and expectations. In La La Land, the number "Another Day of Sun," picked up from the cutting room floor, seems more like an exercise of instructing the audience that La La Land is going to be a musical but, "We know it's awkward for you to witness, but bear with our indulgence. We'll get to the storytelling shortly."
If it's a fantasy, which La La Land pretends to be, then those within the entertainment industry—the journeymen actors who don't require fame to consider themselves successful–should demand a dose of reality within the fictional portrayal of their profession. La La Land perpetuates the myth that an actor isn't an actor unless famous. They're just a barista hoping to be discovered on a backlot, and any acting work they do that is not in the global spotlight is without merit.
Move along. Next.
---
Comments
comments