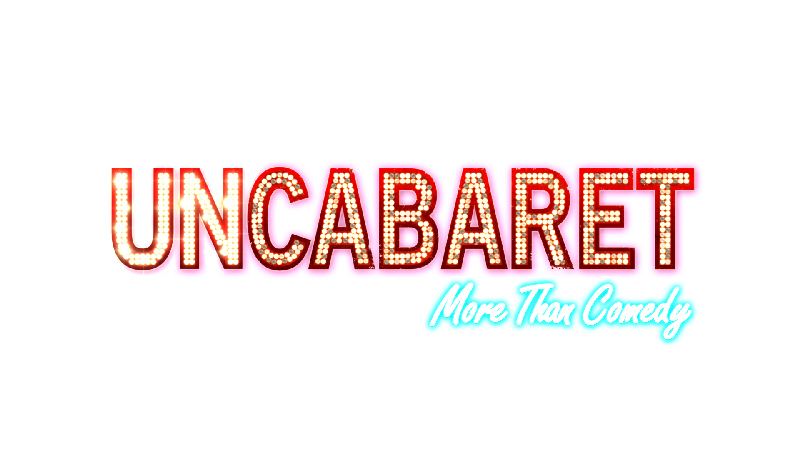 Comedy is big. This isn't a new thing. It always has been, hasn't it? We have a long history of wanting to laugh, apparently. There are many options open to you as a comedy-seeker when you live in LA. Pretty much any day of the week, you can catch an 8 or 10PM (even on a school night) stand-up show in multiple locations in the city. You have improv shows in abundance, again, every night of the week. And now storytelling shows like The Moth or Mortified have gained in popularity in the City of Angels as well, which more often than not at least lean comedic. How do you weed through them all? You got me. I say hop around town and enjoy yourself while supporting live performance. But if you need a nudge in a certain direction, I've got a recommendation for you.
The UnCabaret just happens to be celebrating their 25th (!) anniversary here in Los Angeles. Self described as an alternative comedy night, it's a mix of big names and relative newcomers that engage in personal storytelling, standup, and music. Beth Lapides is the show's founder and, as far as I know, opens the show every single Sunday evening. Mitch Kaplan is the musical director and constant partner in crime.
So I decided I'd stop by for a try one Sunday night. It wasn't a seamless experience, and that may have been part of its charm. I'd never been to the show or Au Lac, the vegan restaurant that hosts the show, before. I walked in and told the host that I was there for the show. She looked at me, might have murmured, "Cool," and didn't move a muscle. I asked her if she could point me in the right direction and she gave me the biggest eye-roll I've seen in years, before walking me to where I needed to be. Epic eye-roll. So I'll just tell you, walk in the door and head left and to the back of the restaurant. You'll see a new set of glass doors that lead you to the UnCabaret stage. Whew! I just spared you the whole put-out hostess situation. You are welcome.
I was seated without being asked for my ticket. That was weird. The attempt was to place me in the front row, which for me could be categorized as torture. So I asked to be moved back a row with no incident. If you are a front row person, get there early-ish (maybe 7:40) to make sure you grab a prime spot. If, like me, that causes a panic attack, get there at 7:55. You might be able to score a back corner spot at that time. I'll try that next time. There's a two item minimum; I recommend ordering something before the show begins. The gentleman sitting next to me (a long time regular attendee) had 2 smoothies, 3 glasses of wine, 4 entrees, and a dessert. If you are concerned about the two item minimum, I'd suggest cozying up to him. He might volunteer to cover one of yours.
Beth opened the show with introductions (there's a house band! how cool!), some laughs, and a song. I'm sure it goes this way every single show. All the guest performers were asked to tell a story (vs. the standard standup routine) and I'd say it was a stumbling block. They were all obviously talented. I believe on my particular evening, standup was their particular area of expertise, and perhaps they should have been allowed to do what they do best. The performers seemed a bit uncomfortable with the given circumstances, but were all entertaining and endearing on various levels. The absolute highlight of the show on my particular night of attendance was Justin Sayre. He shared some sweet and hilarious things, and sang a song. I need more of him in my life. Seriously magical, and he's there on a semi regular basis. The evening ended with a small handful of young dudes rockin' out. It was a bit puzzling, hilarious, and perfect.
I wouldn't call it a polished evening of comedy. I wouldn't call it alternative comedy nor more than comedy, really. It was just a nice evening with warm and funny people. Some of whom seemed to be regular performers, regular audience members, and some not. It wasn't a club where you needed to be in the know to have a good time (except, maybe where to go—ahem, unhelpful hostess). Strangers are welcome. It was the first time in a long time I didn't feel like I was in LA. If you are from a town that leans towards live performance, this may feel like home to you. Pretty unpretentious, light, fun night. Oh, but after the cost of admission AND the two item minimum, when getting your check . . . you'll be reminded that you are, indeed, in LA. Just keep it in mind.
---
UnCabaret
Au Lac Vegan Restaurant
710 W 1st St, Los Angeles, CA 90012
(213) 706-3630
When: Sunday's 8PM
Tickets: http://uncabaret.ticketfly.com
Price: $10-$30 + 2 item minimum
Everything you could want to know: http://uncabaret.com
Comments
comments