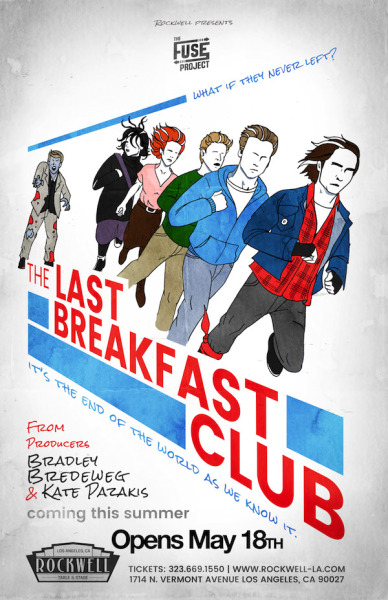 It's summer! There's extra pressure this time of year to get out and have some fun. Luckily in the City of Angles, we have a lot of great entertainment options. One you may want to add to your list is The Last Breakfast Club: Musical Parody at the Rockwell: Table & Stage. Gen Xers and 80's music enthusiasts, this show is for you.
The show appropriately opens with the familiar R.E.M. song "It's The End of the World As We Know It" as we find the expected gang of five in weekend detention. All is just as you'd expect, except there's been a nuclear disaster and they are very likely the last brain, athlete, basket case, princess and criminal on the planet, all holed up in the library. But don't you worry, Bradely Bredeweg (director, EP, co-writer) and Rockwell veteran Kate Pazakis (EP, artistic director, co-writer) have them all mulling over the same teenage angsty 80's issues from the beloved movie as well as a few new topics to add to the mix. Good 'ole Principal Vernon is there keeping watch, although he is a now a zombie. And Carl the uptight janitor seems to have survived as well. Purists don't fret, the changes are fun and there are a lot of them, it is The LAST Breakfast Club after all.
This show is at its best when the cast is singing. And lucky for us the show isn't shy on songs. You'll recognize most if not all of the songs as long as you are a devotee of pop 80's era music or from the Gen X club. You'll hear Prince, Bon Jovi, Tears for Fears and Journey to name just a few. If this isn't your bag, this isn't your show. It may help to have seen the original movie to get all the references, but I don't think it's entirely necessary. I do, however, wonder what rock you've been living under to have not seen The Breakfast Club.
The cast is a spectacular bunch of performers. All are amazing singers, their energy is enviable, stage presence and showmanship is top-rate. The storyline is the weak link in the production, but it's not really a distraction. And truthfully they throw in a bit from another popular 80's flick that is pretty genius. It's almost enough to make me take back the last statement, but not quite. The show really rests on the 80's-errific songs, and that's why you should go. Imagine the most phenomenal 80's cover band show, but 1000x better. That's this show. Not high art (it's ok to go light on the high art over the summer, right?) but it's entertaining. The performance I saw had the following cast (complete with 2 understudies, but you'd never know): Anna Grace Barlow, Jimmy Ray Bennett, Zack Collona, Max Ehrich, Damon Gravina, Lana McKissack, and (I think, there was no official understudy announcement/documentation) Taylor Boldt. There's fun choreography by Chris Downey and Nick Geurts. The musical director, Gregory Nabours deserves a standing O.
I have one gigantic beef with my experience which is completely avoidable in hindsight, and of course, I will share the knowledge freely. My "Partial View" seat that I admit, I bought off a discount ticket site, was far more accurately a "Hardly Ever View" seat. I really had the worst possible seat in the house. I went unannounced, and no one knew that I was reviewing the show. I'd say I saw about 20% of the show, and that is probably generous, as I was basically behind the stage. Other "Partial View" seats are better, certainly, but it's a gamble. The house was not full, so don't get excited about a possible upgrade in seating depending on availability and the goodness of people's hearts. It's not going to happen. So, My recommendation is to buy from their website where you can hand pick your exact seats (and pay full price) or only purchase "Regular" or "Premium" seats off a discount site. Be warned, there is a 2 item minimum in addition to your tickets, so it can add up. If you are budget oriented go with the partial view direct from the website or regular view tickets from a discount site. Problem solved.
Bottom line, Gen X and 80's music enthusiasts will really enjoy. You'll have to cover your own mouth to keep from singing along.
---
The Last Breakfast Club
Rockwell:Table and Stage
1714 N. Vermont Ave.
Los Angeles, CA 90027
323-669-1550
Thurs-Sat 8:00 PM, Sun noon.
Thru July 22.
$22-49 + 2 item minimum
http://tickets.rockwell-la.com
---
Comments
comments