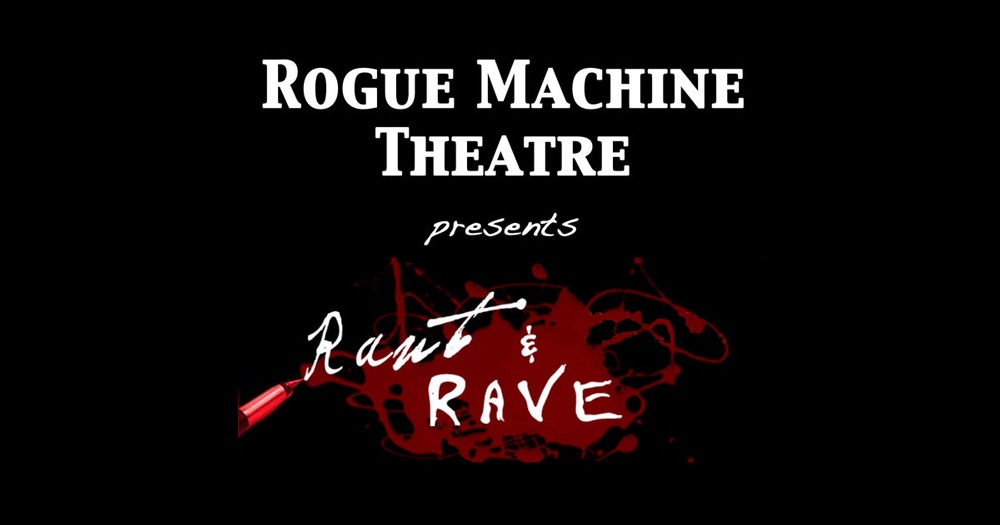 Storytelling is hot. I think it's been hot now for quite some time, so maybe I should say hotter? But that doesn't sound quite right. You get the idea. I had a terrific plan to follow the heat and catch The Moth GrandSLAM in downtown Los Angeles and share my experience with you, but it was sold out. Remember, storytelling is hot! So I searched the internet for an alternative. I landed on Rant & Rave at the Rogue Machine Theatre.  Something like Mortified would have been a closer Moth match, but Rant & Rave is a storytelling-ish show and I was going!
Rogue describes the show as, "An ongoing art project where prose finds voice." They select a group of Los Angeles writers, give them a topic word (the January show was "ESCAPE"), and a 20ish minute time limit—as far as I can tell—and the writers get up and deliver their own words. The show runs one Monday evening per month and I believe it always sells out. It runs about two hours and there is an intermission. That's the deal.
I have a love/dislike relationship with this show, so let's cover the bad news and just get it out of the way. This show is open to the public, but it feels like a thing for insiders—insiders to what, I'm not sure. Maybe the audience is filled with the Rogue Machine actors, maybe it's LA theatre actors in general gathering to socialize and support, which I can actually totally get behind if they'd make it a closed event. It's uncomfortable to walk in, get your ticket, and wait for the house to open solo, while the rest of the lobby is filled with a party-like atmosphere where seemingly everyone knows each other. But let's look at the bright side—if you thrive in a party crashing situation, then this would be right up your alley. It could be a good way to network with other theatre actors or specifically Rogue Machine people if you are willing to introduce yourself to strangers. But if you are like me, and that isn't your bag, buy your tickets ahead of time and head in five minutes before the show starts—problem (mostly) solved. A bit of good news is there's a concession stand with wine and beer you can bring in the theatre. So you can drink if you are uncomfortable. Yay?
On the night I attended, there was quite a diverse group of writers performing. In this aspect, Rant & Rave is ahead of your other storytelling show options. There were men and women, younger and older, and you can't call them #rantandravesowhite, so that's great! Moth and Mortified performers may stretch to the realm of GenX, but that's about it. There was some legit grey hair represented, as well as Millennials. The writing was great. The delivery of the writing was a bit spotty, but don't we secretly hate brilliant writers that are amazing performers too? Talent should be spread around if there is any justice in the world, and I think that is shown here. There were funny and intense pieces, ones that were wistful, and others filled with pain, but hope. Good stuff. I'd shorten the time limit if I were king of the Rant & Rave world, but really good stuff.
Other things to know . . . (1) The parking is ghastly. They are in the MET Theatre space and it really has the worst parking situation of any theatre in town. (2) They have festival seating, so there's a fine line of getting there too early and dealing with the party crashing feeling, or getting there too late and not being able to sit with your pal, and/or climbing over people to your iffy solo seat. (3) Buy your ticket online ahead of time (or they offer the option to "reserve" a ticket, requiring pickup 15 min before showtime) because the show does sell out.
In the end, the Rogue Machine Theatre is one of the best smaller theaters in LA and that might be reason enough to deal with some of the less than desirable aspects of Rant & Rave to see a solid storytelling show.
---
Rant & Rave
The Rogue Theatre at the MET Theatre
1089 N. Oxford Ave, Los Angeles, CA 90029
One Monday per month
8:00 PM
Tickets: $20.00
http://roguemachinetheatre.com/show-info/rant-rave/info-tickets/
Comments
comments