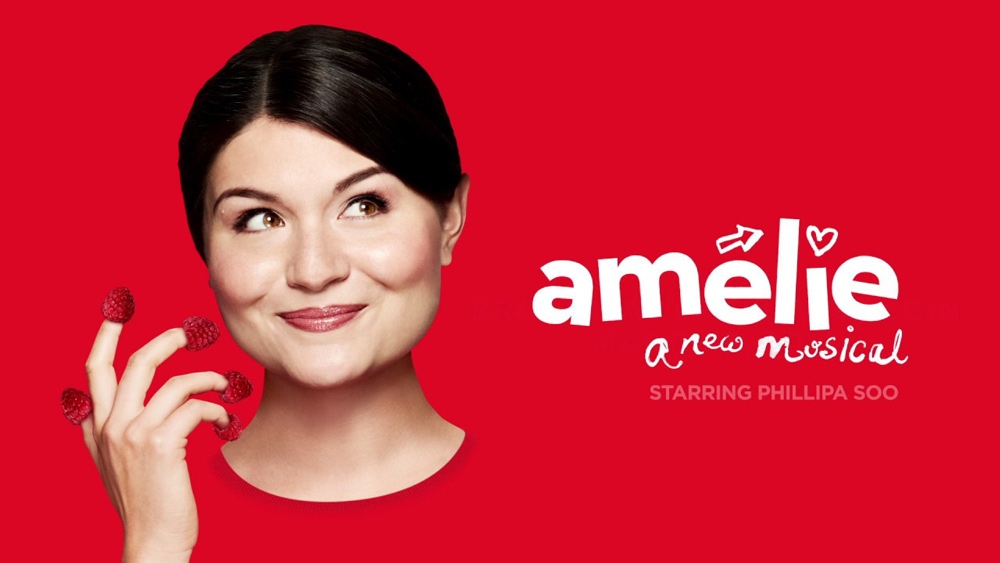 I imagine getting a new musical ready to be Broadway-worthy is a challenge. There's a long list of things that need to be great to feel really good about a musical. Book, music, lyrics, choreography, cast, set, etc. Amélie, A New Musical made its debut at the Berkeley Rep with the Ahmanson as the next, and last, temp home on the path to Broadway. I think Broadway audiences will be grateful for the additional LA pitstop and the opportunity to check off a few more boxes on the list of musical must haves. Unfortunately, it's a little sparse at the moment.
I'm not sure I've met a person who has seen the 2001 French film by Jean-Pierre Jeunet and Guillaume Laurant who didn't fall in love with it. I loved it. I also couldn't tell you anything about it other than it was magical, REALLY magical, and that I loved Audrey Tautou. The magic hasn't quite made it to the stage, certainly not at the film levels we are all hoping for, though Phillipa Soo as Amélie has the Audrey T. look and feel (not to mention a great resume with the wildly popular Hamilton right at the top), but just doesn't fill the shoes . . . yet.
But for a musical that I was ultimately disappointed with, I still had a pretty good time.
The shorty CliffsNotes storyline: after a childhood of being a lonely kid with a goldfish as her only friend, Amélie makes a move to Paris as a young adult. She is stunted in her ability to develop close relationships, but her desire to go about her small world and accomplish little bits of good for people around her helps—random acts of wondrous kindness. Of course, in the process of her daily work at a restaurant and her adventures of doing good, she sees a perfectly quirky boy, Nino (Adam Chanler-Berat), who she falls for. There is a slow moving coming together of the two that even her inherent inability to get close to people can't stop.
It's a cute, quirky little heartwarming story. It's a charming love story. But the magical wonder of the movie, it is not.
This show would benefit from a smaller stage and a more intimate setting. It's an intimate story. This isn't the first time this season I've felt this way about an Ahmanson show. Unless something changes, this is a problem that will follow them to Broadway as well. The songs (music by Daniel Messe and lyrics co-written with Nathan Tyson) were more than fine, but nothing I sang on the way home, let alone find myself humming now. The story was sweet (book by Craig Lucas), but I guess that's where the problem lies. It isn't the story, exactly, that we all fell in love with, it was the magic, and this production is still finding it.
But there are plenty of whimsical moments to be experienced, and the director (Pam MacKinnon) keeps it clipping along at a no-intermission, 1-hour-and-50-minute pace. The chorus is pretty spectacular, and I'm a believer that a musical is only as good as its chorus. Hooray for the diverse, talented, and hilarious bunch!
There are a lot of good reasons to go see Amélie, A New Musical even though it may leave you a tad disappointed. If you are a Hamilton fan, Phillipa Soo may be reason enough. The millennials in the audience (which means, YES, there were young people seeing theatre!) were crazy for her. This show is headed for Broadway. The chorus was to die for. There is whimsy and charm to be found, and although not enough to be completely satisfactory, some is always better than none. And there are some fun stage tricks (Amanda Villalobos/Peter Nigrini), colorful costumes (David Zinn), and, well, things might feel challenging in the real world, and Amélie offers a frivolous escape. Go grab one of their affordable tickets (they go as low as $25) on a Tuesday night and let go. It will make you smile.
---
Amélie, A New Musical
Ahmanson Theatre
8pm Tuesdays-Fridays
2pm and 8pm Saturdays
1pm and 6:30pm Sundays
Thru Jan. 15
$25-$125
(213) 972-4400 or www.centertheatregroup.org
Comments
comments