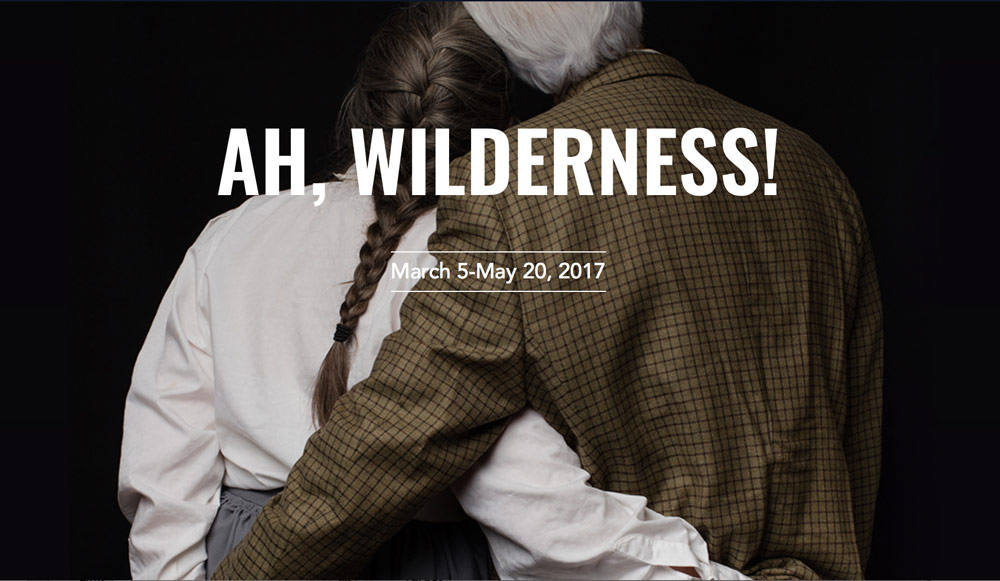 Ah, Mr. Eugene O'Neill. How is it even possible that you, Mr. Doom & Gloom, wrote Ah, Wilderness!? I'd love the opportunity to sit down and have a drink with Eugene O'Neill and discuss that, amongst many, many other things. If you follow these reviews monthly, you know both my admiration for EO, one of the "best" American playwrights, and that I sat fairly enthusiastically through 3+ hours of Long Day's Journey Into Night last month at the Geffen. I couldn't resist the thought of seeing another O'Neill piece the following month at A Noise Within. A completely different kind of piece, which most call a straight-up comedy (though more in the warm/feel good realm vs. the laugh out loud type), in which the main character gets his happy ending. It's presumed to take place in the same small town as in LDJIN on July 4, 1906.  And . . . that's where most of the similarities end.
Ah, Wilderness! centers around the delightful middle-class Miller family. Nat Miller (Nicholas Hormann) is a newspaper publisher who, along with his doting wife, Essie (Deborah Strang), has been raising their four fine children, as well as providing a home for Essie's never-been-married sister, Lily (Kitty Swink), and jovial/alcoholic uncle, Sid (Alan Blumenfeld). Wait, alcoholic Uncle Sid? Mr. O'Neill, maybe you DID write this play. Seventeen-year-old Richard (Matt Gall) is the second child and the central character who, gently mind you, rebels and pushes the boundaries by reading "daring" books, spouting socialist ideas, and quoting risque-ish poetry. As you might have guessed, he's endearingly naive and harmless. It's also not a stretch to predict that he happens to have fallen in love with Muriel (Emily Goss), but her grumpy and disapproving father has gotten squarely in the way by restricting his daughter to the house, and forcing her to write a letter to end their relationship. Heartbroken, Richard becomes a little unhinged, getting tangled up one crazy night with booze and fast women, before finding his way again, and returning back to her.
Doesn't that just make you sigh? It's a very sweet story. Even sweeter if you are sitting in the audience hearing all the "golly gee's," and seeing everyone in their delightful period costumes (by Garry D. Lennon). They even sing a few songs from the time (musical direction by Jonathan Tessero), of which I, personally, was not a fan, but I can imagine it drawing in less cynical people. (I loved the incredibly depressing LDJIN, remember? I'm that person.)
So, shall we leave it at that? It's a sweet story? I can't exactly. There's one thing that irked me about the production and that was the style, for lack of better word. The actors are all skilled, that's easy to see, but there seemed to be a common direction for all to reside a bit over-the-top acting/style wise. I feel like the director, Steven Robman, might have forgotten the play was by Eugene O'Neill, and channeled Neil Simon instead. The (double) takes were consistently broad and the comedy bumped up throughout. Interesting. There's plenty of comedy inherently written into this lovely play, while having some decent weight to it. The weightier moments were glossed over and the comedy played up, and for that I think we all lost something. That is the genius of the rare comedic play by Mr. O'Neill and it was downplayed, if not ignored.
Will you be delighted, entertained and uplifted? Absolutely. I certainly was, and who doesn't need more of that in their lives? This show plays in rep with King Lear and Man of La Mancha, and that may be reason enough for the extreme comedic take on this show.
Ah, Wilderness! will get you ready for summer, to fall a little more in love, and bring back some sweet memories of your youth. Despite any flaws, (if you even agree) you will leave enchanted.
---
Ah, Wilderness!
A Noise Within
3352 E. Foothill Blvd. Pasadena
In repertory through May 20, see website for schedule
Tickets: $25-$64 (and on discount sites)
626-356-3100  x1, or www.anoisewithin.org
Running time: 2 hours, 20-ish minutes
Comments
comments