Aussies in LA. For a relatively sparsely numbered, fairly chilled out bunch so far south that the next stop straight down is the South Pole, we certainly hold our own in the Megatropolis of Dreams.
What is the secret to this much touted Australian success in Hollywood? Is it training? Optimism? Opportunity? Work ethic? Is it positive subliminal conditioning from growing up in a society prizing, at least philosophically, 'a fair go'?  As our second year acting teacher, the indomitable Australian actor and director Mark Constable would cheerfully announce after we gave a particularly horrific performance: "well, you gave it a crack!"  Without delving into a complex socio-cultural analysis, it is probably fair to say that Australian actors aren't afraid to take risks. And it is certainly paying unmistakeable dividends.
Now there's a new kid on the LA block and his name is Damian Sommerlad. Fresh outta Syd-city having filmed Australian feature Life of the Party starring Holly Brisely, Damian has worked in London, Australia and now is hitting LA with a vengeance — and he has some great 'top tips' for success.
---
TA: Thank you and welcome, Damian! Congratulations on Life of the Party.
DS: Thank you! It was a lot of fun to shoot. I play Jason who, as a result of his girlfriend Bea (Georgia Chara), decides to break the record for the world's longest house party with the aid of his two best friends Kray (Michael Budd) and Sandra (Holly Brisley). Chris Kirby plays Perry Vaughan — a gangster with cash who bankrolls the whole attempt. This is Michael's second feature and we shot around Sydney, with the party house itself situated in Mosman. The film itself is a comedic, coming-of-age drama and is exciting in the sense that the cast is really diverse and it's domestic in its treatment of LGBT relationships.
TA: Prior to this you worked on Brendan Cowell's brilliant play, Ruben Guthrie.
DS: It was amazing, my first time working with the Australian Theatre Company (ATC) which is the love child of Nate Jones, Josh Thorburn, Jackie Diamond and Nick Hardcastle. They are really making a big impression bringing Australian works to American audiences. The play itself is a very personal story but its themes (although undoubtedly very Australian) are also universal. They relate to love and addiction in a way that is in fact moving and also very funny. It was a compelling experience to work with Director Peter Blackburn during the rehearsal process which involved a lot of improvisation and exploration. We had a ridiculously talented cast and watching them bond and grow together was really special. I was fortunate enough to get the opportunity to play both Ruben and his best friend Damian which has its own challenges but was also extremely rewarding.
TA: Did you always plan on an LA move after London?
DS: Ha, yes this was largely steered by fate to some extent. A friend had entered the Green Card lottery, so I did too, really on a whim — then forgot about it. I was looking to do some formal training so I auditioned for a couple of drama schools whilst visiting family in the UK. I was accepted into Bristol Old Vic and East 15 Acting School, opting for the latter as I was granted a scholarship and loved the prospect of being in London. Following graduation, I spent some years working in theatre in and around the West End, before returning to Sydney after booking my first Feature Film Forbidden Ground, directed by Johan Earl and Adrian Powers. A few theatre roles followed, as did my next feature, The Half Dead, working alongside John Rhys-Davies and Tasma Walton and directed by Tim Boyle. Then by chance, I'd checked the the GC Lottery results and I'd won! The company I'd initially filed through had repeated my entry every year, so my number had finally come up and 6 months later I was in LA.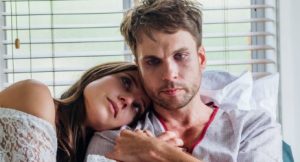 TA: How do expectations in LA differ from those in the UK and Australia?
DS: I can only comment on LA when I speak of the States, but my experience is that in the UK and Australia formal training is much more prized than in the US. I meet a lot of first time actors/models out here who do book work, as youth and appearance has a real currency here. Social media presence is also a consideration, and I'm aware of a lot of actors/performers/influencers who have signed with pretty substantial rep and get in some great rooms based on their Insta followings. A guaranteed audience of 200k or even 1 Million people is obviously pretty attractive to any producer as it is called 'Show Business' after all. As an artist, however, and to be creatively satisfied and to build a career with any longevity, at some point you need to put in the hard yards above and beyond pursuing likes. So there's certainly appreciation for the quality of training that Australian or British actors have and it's also the reason agents are banging down your door if you graduate from Juilliard.
"It's interesting too, because I know a lot casting briefs go through agents in Australia before the broader population of actors get a look in here, and I know of several occasions where actors have booked lead series roles without ever needing to live in LA"
TA: Are you still a thespian at heart?
"Theatre is very much the back bone of any career I have had to this point"
DS: When you live in a cycle of auditioning and self taping as many actors do, it can get pretty thankless pretty quickly… particularly when you aren't booking. Getting in a good scene study class, or doing a solid play with quality writing can literally be a life changer. You're forced to consider your breath, your physicality, your voice and how to access emotion night after night, how to memorize 70 pages of dialogue and how to explore character choices. You're forced to deal with nerves too. Theatre still scares me but undoubtedly the most satisfying (and probably best) work I've ever done has been on stage. Above all, you're forced to really examine at the human condition and consider your own values while bringing this to life. And if that doesn't excite you, then you probably shouldn't be an actor!
TA: Creativity and art — what inspires you?
DS: I get really inspired by my peers — seeing their struggles and successes. There's something to be said for seeing someone go from working double shifts in hospitality 6 days a week to getting flown first class across the world to do something they love. Or taking an idea, turning it into a script and then having it bought by Netflix. It's also true I think, that you're the sum of those people you surround yourself with. So I try to surround myself with positive, constructive people.
"There is a gambler inside every actor"
The difficulty with this industry is that hard work doesn't always equate to tangible success. If you get a corporate job, it's fair to say if you turn up on time, work hard and keep your head down, you'll climb the ladder. Not the case in the arts. Sure, you can get plucked off a train station platform and cast in an award winning film ('Fishtank') but it's clearly irregular. As Stella Adler says 'You have to have a talent for your talent'. If you believe you do have a talent and something to say, and feel you can make the sacrifices necessary to protect and develop that talent, it seems unlikely that at some point that won't get noticed. You need to have faith, and take satisfaction from your own personal growth and progress in the craft itself.
---
TA: Lastly… What are your 5 Top Tips for Success?
1. Learn to love the 'bomb':
There's a Stephen Colbert quote about this, and he goes on to say it's not "oh it's cool, you did fine, you'll get it next time," it's actually coming to terms with the feeling of failure. Like, totally falling on your ass in front of an audience… then start to enjoy that sensation. I started doing UCB Improv when I got to LA, and there were times when I was absolutely terrible — froze, wasn't funny and got really weird. But by failing in front of an audience you start to realize that failure doesn't actually equal death. And it's really just about ego. And I'm still not great at improv. And won't be unless I work on it. But that experience has enabled me to take more risks with acting in general. And it's when you take risks that the really exciting work starts to happen.
2. Volume not perfection:
There's a really great statistic about Picasso. You can probably only name or recognize a handful of Picasso's paintings, but he created over 50,000 pieces, including sculptures, drawings, ceramics, rugs and tapestries. The point being, great work is the thin end of a fat wedge of a whole whack of hard work. Ira Glass talks about how the reason beginners give up on artistic pursuits is because their initial efforts don't meet their own good taste. Their taste is the reason they wanted to pursue arts in the first place. But it's only by doing a lot of something that you start to close that gap. The trick is to have enough tenacity and patience to make it through the mire to the good stuff.
3. Push your own car:
Chris Rock makes an interesting observation that when he was broke, he used to find his car breaking down a lot on the side of the highway. He'd try to flag people down but no one would stop. It was only when he got out and pushed that other people would join in. It's human psychology 101. When your career feels like it's at a standstill, write a film, get to class, start a theater company. Get proactive and those that can help you, will. As Larry Moss says "No one's coming to save you'.
4. Love what you do:
A career as an artist is really a love affair. You need to allow yourself to fall in love with what you do. But like a love affair, it's scary to throw your whole self in it. Because the truth is, it may not work out and you may get hurt. But it's the only way to be be as good as you can be. Let your guard down and really commit. If it's something you really want, don't let anyone get in your way, including yourself.
5. Steal:
You've probably noticed most of my tips are quotes from other people… well, here's another. 'There's nothing new under the sun'. My foremost Acting Coach Annie Swann would say this. And it's true. Why reinvent the wheel? Good artists copy. Great artists steal. The hard work's been done. All you need to do is hone your instincts as to what's gold and what's garbage and then fill your boots. Find great teachers and great artists. Tap into what they have to say and make it your own.
---
About Damian: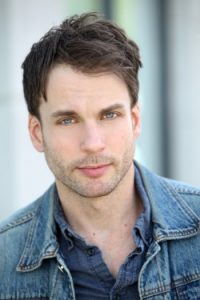 Damian
Somm
erlad is a Los Angeles based actor, recently returned Stateside from playing the lead in Australian independent feature film 
Life of the Party 
alongside Georgia Chara, Michael Budd and Holly Brisley.
Prior to this, he worked with the Australian Theatre Company playing Ruben in Brendan Cowell's Ruben Guthrie and wrapped on The Half Dead  alongside John Rhys-Davies and Tasma Walton (also slated for a 2017 release).
---
Comments
comments