"Casting all actors and directors: This is the month to make it Short+Sweet."
The curtains may have just closed on the 2017 Melbourne Fringe but don't despair, October still holds plenty of delights for the theatrically unsatiated.
Aside from the larger main stage events for the theatre-going, this independent production 'shoulder season' between the Edinburgh and Adelaide Fringe is a great time to incubate new projects and get back amongst the industry for some 'connecting' (the warmer and more mutually-beneficial version of the somewhat grubbier, graspier, and frankly a tad 1980's cheap suit-sounding 'networking').
Connectivity is the lifeline of the industry, where we as artists, casting professionals and all industry talent can create a vibrant hub of collaboration. But how best exactly to get amongst it?
This month, we have two insider scoops for you:
Firstly (hot tip), Sydney's Redline Productions, together with the Old Fitzroy Hotel and the Tamarama Rock Surfers have put together a celebration of all the past, present and future alumni and the great audiences that have made the 20 years of the Old Fitzroy Theatre possible. The event is happening October 28th from 1pm till late and has been generously opened to all Casting Networks members and their guests with a $10 donation to the Old Fitzroy Theatre Fund.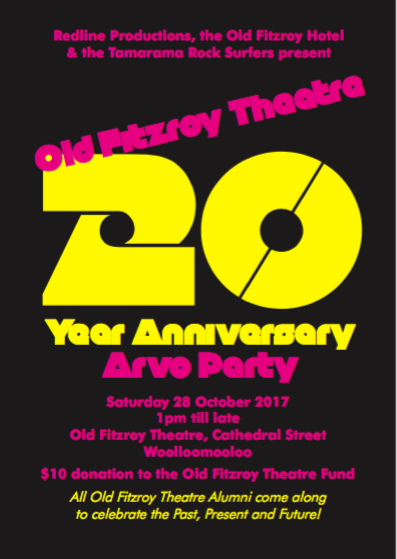 Secondly, Short+Sweet registrations are now open, giving both actors and directors a chance to really stretch their legs creatively and connect with like-minded communities.
I had the pleasure of speaking with Short+Sweet Founder Mark Cleary who shares with us his top tips for success as well as the latest chapter in the Short+Sweet story. As always, and in the same spirit of collaboration, it's not just about theatre as Mark reveals the latest opportunities for filmmakers and screen actors.
Short+Sweet Film is growing like wildfire. There were six festivals this year with over 700 submissions. Next year there'll be 15 festivals (adding Auckland, Brisbane, Canberra, Kuala Lumpur, Abu Dhabi, etc.) and 25 the year after that! The winning films will be presented at the International Gala Final in Hollywood… beyond that? The sky's the limit!  Mark Cleary, Founder of Short+Sweet Theatre and Film
For those who may not have grown up with Short+Sweet to the same extent as Sydney folk, here's bit more about why it's a relevant (and also very useful) event but perhaps most of all, a brilliant success story of how one man's vision became a global empire.
The Short+Sweet Theatre Festival in Sydney is the world's biggest short play festival.
For 17 years, it has been synonymous with the Sydney stage – a rite of passage for actors, directors and playwrights and an enduring emblem of the city's creativity and community.
Now spilling into 30 cities across nine countries, Short+Sweet's reach includes Melbourne, Los Angeles, Brisbane, Auckland, Chennai, Mumbai, Kolkata, Kuala Lumpur, Dubai, Manila and Abu Dhabi. New festivals in 2018 are scheduled for Indianapolis, Suva, Mexico City, Hanoi and Christchurch.
More than 5500 new works of theatre, music and dance have been presented to date, in addition to cabaret, comedy and musical festivals, as well as teen and touring programs.
"The first Short+Sweet Theatre festival in Hollywood was in 2016. This year it went from three weeks to six including a fiery, energetic and passionate week in Spanish – S+S Latino! Can't wait to see where it goes next year." – Mark Cleary
Following this year's inaugural Short+Sweet Film Festival, six different film festivals from Sydney to LA (in partnership with Stella Adler Hollywood) saw their best films presented at the International Short+Sweet Film Gala Final at Hollywood's Egyptian Theatre.
Mark's vision to "build a more creative, connected world, 10 minutes at a time" is now expanding into the US, where the new Short+Sweet Headquarters in New York City will present programs across 52 weeks of the year with a target of "50+50 new Theatre and Film Festivals across the USA within three years".
This is theatre at its most ambitious and here at Casting Networks Australia we love it! With submissions now open for actors and directors for Sydney's 2018 season, Mark joins us to give his 5 Top Tips for Success.
5 TOP TIPS WITH MARK CLEARY, FOUNDER OF SHORT+SWEET:
1. Think big. The world needs dreamers.
2. Be quick. Opportunity takes no prisoners.
3. Be honest and open. Follow your heart and your passion.
4. Be bold. Success is not for the fainthearted.
5. Stick with it. Commitment rules all in the end.
What are we waiting for? It's time to get amongst it!
KEY DATES FOR SHORT+SWEET 2018 SYDNEY, TOM MANN THEATRE
Current:Call for Directors submissions
Open Call for Actor Registrations
10 October:  Closing date for Directors Registration
15 October: Open Call for Film Submissions
19 October: Closing date for Actor Registrations
Season Dates:January 10th – March 4th 2018
http://www.shortandsweet.org/festivals/shortsweet-theatre-sydney-2018
---
About Mark: "I've had past careers as journalist, sub-editor, columnist, editor, publisher, copywriter, creative director and partner in a small ad agency in Paddington. I gave the commercial world away to take over the lease on a huge empty space in Newtown and follow my theatrical ambitions (I'd been a playwright on a small scale for many years). That was over 20 years ago and my life has certainly never been the same. St Georges Hall on King Street is a beautiful old Victorian hall and the frontispiece to the Newtown High School of Performing Arts. It was renamed 'Newtown Theatre' for the eight years we were there and from that location I wrote, directed and presented a lot of my own work as well as a great deal of everyone else's…  I also set up the Newtown Entertainment Precinct (along with other like minded venues) and then the Sydney Fringe Festival (now in it's seventh year although I don't have anything to do with it anymore). My good friend and  long suffering partner in crime from Century Venues, Greg Khoury, was (until recently) still the Chair of both the organisation and the Sydney Fringe Festival. Short+Sweet was created in 2002 although traces it's lineage to successful contemporary dance festival Bodies that was established in 1997 and ran until 2003. Short+Sweet quickly became the largest short play festival in the world, although Short+Sweet Hollywood (established in 2016) could well be bigger within the next few years!"
---
READ MORE ABOUT SHORT+SWEET:
Short+Sweet Film Festival in Los Angeles, featuring Mark Ruffalo
---
Comments
comments