UK director Alex Taylor didn't always know he was going to make magic films. Starting in the music world as a saxophonist, he quickly took the film world by storm when he came second at SXSW with his debut short film Kids Might Fly. The rest is history. Here Casting Networks got up close and personal with Alex to talk about about spaceships, zany plots, casting real people and what he's got coming up next. 
Casting Networks (CNI): Firstly Alex, how long have you been in the business of being a director and filmmaker? IMBb suggests 2009 but we often find that people have been working for a long time before that. 
Alexander Taylor (AT): Before 2009 for several years I was a saxophonist playing jazz for a living, the singer/synth player in an indie band, and a film composer.  It was composing for film that led me into the industry, as I realised that my fate as a composer would be determined by directors I was working for, and most of them weren't able to make the jump to feature, so I couldn't see my career moving forward.  At some point I felt I could have a crack at writing and directing, and that led to my first short film Kids Might Fly.
CNI: Your first short film, Kids Might Fly, won 2nd place in the Best Experimental Short category at SXSW. What a start to your filmmaking career! What was that about and how was it being at SXSW so early on in your career?
AT: It was pretty amazing as I had no idea there were all these film festivals out in the world.  Lena Dunham got an award for her first film in the same ceremony and I met people like Joseph Gorden-Levitt and Jonah Hill – although I had little idea of who they were at the time as I was totally music focused.
CNI: The storyline for Spaceship is so otherworldly – with a girl faking her own alien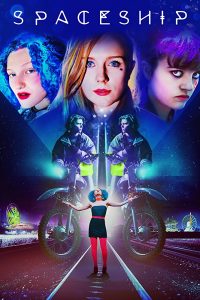 abduction while her father is looking for her in a strange teenage world of unicorns and black holes – how did you go about getting Creative England's iFeatures to understand and relate to your zany pitch? 
AT: It's zany but there's a simple 'someone disappears and people look for her' search movie which helps tame the chaos!  I think that's probably what helped the idea get made – it had a clear beginning and end and a mysterious interior…which was a another challenge!
CNI: And with regards to the incredible cast attached, including Lara Peake, Steven Elder and Alexa Davies, how did you get these actors for the role? Was it a case of simply asking them via your casting director Shakyra Dowling, or did they go through a series of auditions with you?
AT: Shakyra had amazing taste as she brought some of the most distinctive, talented actors in front of us and it was just a joy to audition them.  I auditioned everyone, I don't understand the concept of casting someone based on their name or status – unless it's for financing reasons.  There are so many talented actors out there waiting to be discovered.  Take Tallulah Haddon – she hadn't done even a short film when I auditioned her and cast her as one of the leads, and now she's leading a Netflix series.  I'm proud of all our cast, I love them all to bits.
CNI: We were delighted to see your film, as part of the Q&A screenings happening around the Picturehouses in the UK. As a first time feature filmmaker, has it been a really surprising adventure? And what would you say have been the highlights, obviously aside from making an incredible feature film.
AT: Thanks so much – the highlights have been the great friendships that came out of the film, cast and crew, producers, everyone.  There was an incredible atmosphere during the shoot and to see so many people together to make something with a soul, it was like a religious or spiritual experience for me and I think for some of them.
CNI: We love asking directors how they like to be contacted by actors, and do they ever cast actors from emails, tweets, FB messages etc.? Or have you always worked with a casting director?  
AT: Well I wouldn't recommend this for other directors, but for me if someone sent a weird strange performance video where the actor is compelling, original, engaging and creative, then I would think about casting on that.  I like people who look different and act different, and bring a lot of themselves to the role.  But it's also essential to work with a brilliant casting director – with Shak everything just fell into place.  Find the right one for you.
CNI: When actors come in to audition for you, what do you think is the single biggest thing they can do to help themselves nail that audition with you?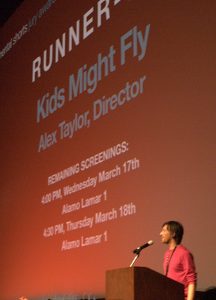 AT: Don't try and perform, just be yourself and get in character and be real – I personally cast personalities as close to the character as possible, so I really to see something from the person's own life, and to show their creativity.
CNI: On the magic of hindsight, is there anything you wouldn't do again if you were going to make your first feature?
AT: Well, I wouldn't change anything about making Spaceship, it was a magical, emotionally fulfilling journey during which, like life, everything happened for a reason.  However, next time I won't go to Wetherspoons and eat the steak, mash and beer deal every single night of the shoot for a month.  I put on so much weight I'm still trying to cycle it off.
CNI: Are you able to share any new projects that you have coming up?
AT: I do, I can't say too much yet, but I'm in development with the BFI on my next feature, pitching TV series to various channels, and I have a larger budget script destined for Hollywood on the go.
CNI: And any parting advice to first time filmmakers out there, who are bravely wanting to make their first short or feature film in the UK specifically?
AT: Just make it in your voice, not someone else's, because life's really too short and you want to know you made something that is honest and real, and individual.

---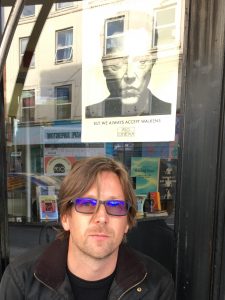 Comments
comments