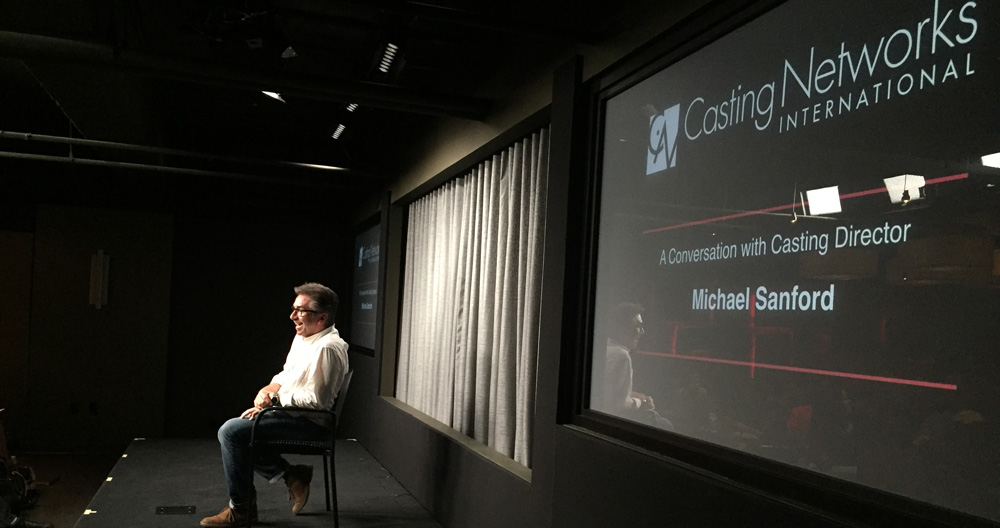 Our May seminar speaker was the fantastic Michael Sanford. Michael and his wonderful team have worked with many top commercial, television, and film directors, as well as production companies and advertising agencies. Several of these clients have been nominated or have won the Oscar, Emmy, DGA, and various other awards while collaborating with Sanford Casting. In 2006, Michael broadened the company's vision to include casting projects in the Spanish Language market. In 2010, he launched a feature-length and short film division whose recent credits include A Pebble of Love, A Reason, California Solo, The Artist, I Melt with You, Mosquita y Mari, The Sleepy Man, and Dustland. He shared the 2012 CSA Artios Award with his mentor and fellow casting director Heidi Levitt for their collaboration on The Artist. Additionally, Michael received the 2013 Seymour Heller Award for Commercial Casting Director of the year, which is given by the Talent Managers Association. He is also currently serving on the Diversity Committee with the Casting Society of America.
Here are just a few tips that came out of the seminar.
---
1. Utilize the "Other Experience" section of your resume.
Did you used to be a butcher? A baker? Okay, what about a candlestick maker?
The "Other Experience" section is where you can draw attention to your skills that are especially strong, and where there are stories. It's one thing to list cooking as a skill, it's another to say you used to be a line cook at a diner in Colorado. It gives a fuller idea of your handle on the skill and helps them get a better idea of your personality. And are you a parent? You should for damn sure put that in Other Experience.
2. Your read should be conversational and slower.
Slow. It. Down. Your read in the room isn't the place where you show off your memorization skills; your read is where you show your ability to take copy and make it real. You're a human, and while you may be addressing a camera, you're still speaking to humans—be it the casting director on the other side or the person watching the commercial. Make the words conversational. And take the commas. If there's a comma in the sentence, you should be taking a beat there.
3. Tone down the LA look for "Real People" auditions.
You don't have to shy away from "real people" auditions; you are, after all, a real person. But take it to mean you should look a lot more like your natural self—less makeup, more down to earth clothes, etc. If you're going real, forego glamour.
4. When listing side effects, have an even tone.
This one's short and sweet. If you're at a pharma audition, no need to emphasize the side-effects, right? Just deliver them in an even, calm tone.
5. Don't outshine the product you're advertising.
A commercial isn't about giving a showy, Oscar-winning performance. The star of the commercial is the product being advertised.
---
The last Saturday of every month, Casting Networks hosts a FREE, live event with an entertainment industry expert. Come join us in screening room M101 at the SAG-AFTRA Plaza (check-in on ground floor) and get valuable tips and advice from leading casting directors and other industry professionals. Both union and non-union actors are welcome. Each month is a different topic and speaker, so it's a unique experience every time!
Comments
comments