Another Year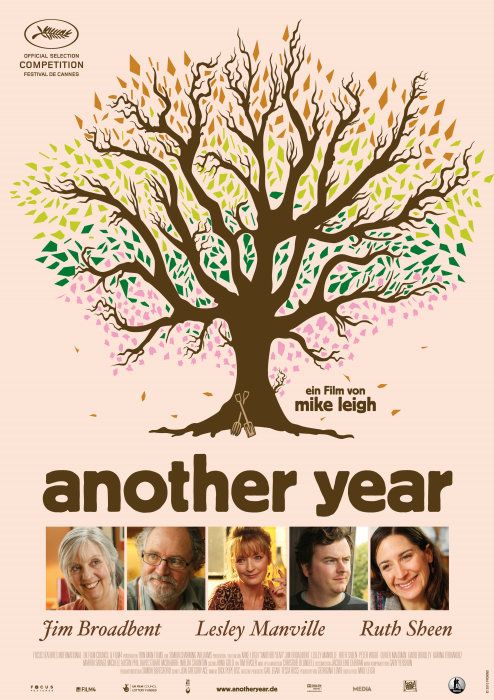 Since these reviews appear in The Networker, a website that has an audience of mostly actors, I feel it necessary sometimes not only to review films that are current blockbusters, but to turn you on to works that might actually illuminate and teach us something about the work we do as actors.
Mike Leigh's "Another Year" is one of those films.
A totally unique filmmaker, Mike Leigh has an amazing process of working with actors. Often times, he has the bare bones idea of a plot, but he prefers to gather his cast of actors together and let them flesh out their characters – their backstories, familial relationships and motivations. Lots of improvisational work follows, lots of rehearsals, and from that comes the script.
Granted, filmmakers rarely get the opportunity to be so free with their time, but I am very thankful that Mike Leigh has apparently found a way to make it happen!
"Another Year" tells the very simple story of Tom and Gerri (Jim Broadbent and Ruth Sheen), a happily married couple and the various people who circle in and out of their orbit over the period of a year. These people include their son, Joe (Oliver Maltman), their friend Ken (Peter Wight), Tom's brother Ronnie (David Bradley), and most importantly, Gerri's desperate co-worker and friend Mary (Leslie Manville).
There isn't much of a plot beyond the normal comings and goings and ups and downs that happen throughout the course of a year, but that is beside the point. This film is aiming for something much more – a truthful examination of what it means to be happy. Is it something we choose? Are we able to change our outlook? Or are we simply dealt a good hand or a bad hand?
Guiding us through this emotional journey is an amazing group of actors who somehow go beyond acting and portray actual life onscreen. There isn't one false note in the film, whether the situation is comedic or tragic. As fellow actors, there is much to be learned from the work you will see in front of you.
Lesley Manville is astounding in her portrayal of a woman who desperately wants to be happy, but doesn't necessarily have all the tools at her disposal. It's painful and somewhat tragic to see how she throws herself at Tom and Gerri's son, Joe. And notice Joe's subtle change in attitude towards her when he brings a new girlfriend over for dinner. Jim Broadbent and Ruth Sheen are flawless in their portrayals. They are so supremely comfortable in their married life that you can't help but see why all these unhappy souls long to be around them. They represent what we all hope for, but they aren't showy about it. They just "are."
The film doesn't lead you to any easy answers to the questions it asks, but through Leigh's skillful direction and the cast's completely un-self-conscious and remarkable performances, you will emerge from the theater with a better understanding of the human condition.
You need to see this film.
ANOTHER YEAR Dir./Scr. Mike Leigh; STARS: Jim Broadbent, Leslie Manville, Ruth Sheen. Rated PG-13.
---
Movie Review by Mike Danner
Comments
comments