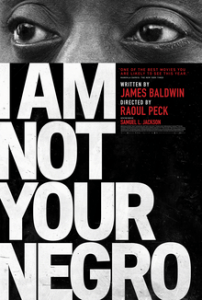 I Am Not Your Negro
I Am Not Your Negro is one of the most important films of the decade thus far. Based on author and social critic James Baldwin's unfinished book Remember This House, and directed by filmmaker Raoul Peck, the documentary discusses what it means to be black in America, from slavery to the Civil Rights Era to present day. Samuel L. Jackson gives an impassioned narration, bringing life to Baldwin's words in only the way Samuel L. Jackson could. Nominated for Best Documentary Feature, this powerful film is a must-see.
Baldwin's book Remember This House, which he was still working on when he died, makes up much of the film. The book is written from the perspective of three black Civil Rights leaders, all of whom were close friends of James Baldwin, and all of whom were murdered in the 1960s. These men are Medgar Evers, who was killed in June of 1963; Malcolm X, who was killed in February of 1965; and Dr. Martin Luther King, Jr., who was killed in April of 1968. Throughout the film, Baldwin's words are used to help us reach a better understanding of who these men were, beyond the characterizations that modern society has come to know. For example, we know that Malcolm X and Dr. King had competing philosophies throughout their lives, but when each of them died, they both saw and understood the world rather similarly.
In addition to Martin Luther King Jr. and Malcolm X, two figures who remain household names and are regularly referenced in connection to the Civil Rights Movement, a third focus of the film is the somewhat lesser-known activist Medgar Evers. While not as well known as King or Malcolm X, Evers is immortalized in the 1963 Bob Dylan song "Only a Pawn in Their Game," written shortly after Evers' death and featured in this documentary. Evers was gunned down in front of his wife and children, and his killer was not brought to justice until 1994 (the events of which are depicted in the 1996 Rob Reiner film Ghosts of Mississippi).
Although Baldwin died in 1987, the documentary ties his words to current events and recent social injustices that have affected the black community. One, for example, is the February 26, 2012 murder of Trayvon Martin. Another is the shooting death of Michael Brown in August, 2014 in Ferguson, MS, the protests that resulted from the March, and the 2015 U.S. Department of Justice decision not to charge Officer Darren Wilson with the killing. These and other moments from recent history are interspersed throughout the film. This technique gives the timeline of events, from hundreds of years ago to the present, with a connectedness that makes it feel like a documentary of today as well.
Baldwin, a prolific writer, rose to national prominence in the late 1950s, when he met Dr. Martin Luther King, Jr. around the time of the Civil Rights Act of 1957. Baldwin would become an important social critic during this time, and participated in many important debates and conversations through the '60s, several of which are shown throughout the film. One, for example, is the famous conversation that Baldwin had on the Dick Cavett Show in 1968 where he explains one of the major differences in the perception of blacks vs. whites, saying, "[…] any white man in the world says, 'Give me liberty or give me death,' the entire white world applauds. But a black man says exactly the same thing, word for word, he is judged a criminal and treated like one, and everything possible is done to make an example of this bad n*****, so there won't be any more like him." Baldwin's commentary was groundbreaking at the time, pointing out the hypocrisy and the racism lurking throughout society.
Another interesting aspect of this documentary is the role that popular culture, particularly movies and television, has played in contributing to the way race is seen in America. Clips from movies going back to the highly controversial, even at the time, 1915 film Birth of a Nation, which depicts members of the Ku Klux Klan as heroes, are shown throughout. Later, there is a montage of a bright and almost dizzying display of films featuring blonde and brunette, perfect, smiling, white faces. When this montage is presented side-by-side to the way black people have been displayed in films, we become struck by the white supremacy of it all. Baldwin continues, talking about John Wayne and Gary Cooper, for example, and the countless westerns in which they appeared, Wayne's films in particular, wherein Native Americans were vilified and completely dehumanized. Baldwin says of Cooper, though, "If you're black, you identify with Coop until you realize that the Indians are you, and that Coop, and Wayne, is a symptom of a culture that won't grow up and face a history that has no moral justification." This fact, that every black man reaches a point where they realize that society views them as "the other," is crushing.
This film, in today's turbulent political and social climate, is more relevant than ever. There has been a wave of films detailing the black experience in America (Ava DuVernay's remarkable documentary 13th, for example, about how the crime and punishment loophole of the 13th Amendment has led to the mass incarceration of black men that we see in the country today), and this film is another essential piece of commentary on what it means, and has meant historically, to be black in America. Both of these films, along with another important documentary about race, O.J.: Made in America, are unsurprisingly nominated for the Best Documentary Feature Oscar this year. Michelle Alexander's 2010 book The New Jim Crow: Mass Incarceration in the Age of Colorblindness, is another important work to become familiar with right now, along with Ta-Nehisi Coates' 2015 book Between the World and Me, to name just a few.
I Am Not Your Negro is at one moment heartbreaking, and at the same time hopeful—both tragic and potentially redemptive. It presents the sins of our country, deep sins that began with the Atlantic slave trade as early as the 15th century; to Bacon's Rebellion and its aftermath; through slavery, Reconstruction, and its collapse; the Jim Crow laws that segregated the South through the 1960s; the Civil Rights Era; through the New Jim Crow period and Era of Mass Incarceration that we have been experiencing since the Nixon Administration, and which has reached a boiling point in 2017. This film asks us to dig deep and honestly confront the racial sins of our American history, and realize that history will continue to repeat itself unless we face head-on the incredible racial inequality that exists in America. Seek this film out and see it as soon as you can.
---
Comments
comments