"When you think of a director, you think of a man with a baseball cap on, staring at a monitor. You probably don't think of a Katherine Bigalow and that's what needs to change."
-Tema Staig
Parity is the state of being equal, regardless of status, pay and gender. Parity within the film industry means more women working at all levels, the goal being to have women working from the top down and the bottom up. It means more women on set, behind the camera and in all roles helping to shape and form the narrative landscape of our film and television and the stories we allow into our lives. The value coming not just from a position of fairness and equality but also that of just good story telling from a female perspective.
In 2010 Tema Staig, a Film Maker and teacher at Film School began Women in Media, an organisation with the goal of achieving parity within the film industry. They run networking events and regularly hold panels where women achieving incredible things within the industry discuss the art and craft of 'the story'. However perhaps most notably Tema began the 'Women in Media Crew List', a list where hundreds of skilled women in the US and now globally are able to input their details to be hired to crew for the film sets. I was fortunate enough to sit down with the unstoppable Tema Staig to discuss her incredible organisation, their goals of parity and inclusion and recognising the excellent work of women in the film industry.
"If they don't invite you to be at the table, bring a folding chair."
– Shirley Chisholm (the first black woman elected to the United States Congress
---
Miranda O'Hare: How did Women in Media begin?
Tema Staig: It started in 2010 when I was teaching at film school and I was asked to help with an event for a 'Women in Film' group at the school. I helped with one event and I thought 'why don't we make this bigger?' For the next event we were screening a film about camera-women and I thought lets give out awards for female students that we felt were going to do something incredible when they graduated- given their work at the school. We called them the 'Woman to Watch' awards. We wanted to salute these students so we had this big event and it was tremendously successful. However, as we were about to give out one of the awards I overheard a male student say to one of the women who was receiving an award, 'oh you're getting an award for having a vagina?' I thought wow really? Is this really what he thinks? He didn't know I was standing behind him or maybe he would not have said it but that was a bit of a turning point for me. These women who won these awards have all since gone on to make us extremely proud, they're all doing incredible things. They're directing with regularity, they run film festivals etc. After this, I saw that some of the female students were suffering because there was a level of aggression from the male students at times and I knew there was a need for this group. I strongly felt that there needed to be an organised forum for the female students to get to know each other, they needed a safe area where they could talk about collaborating. So I changed the format for the events and meetings and I would have the women get up and introduce themselves, say what they do and then outline there wants and needs career wise in a minute or less. They would also sign in with the same information. Because of this it became so much easier for people within the school to find other women to work on their sets and to collaborate with. From there it really began to grow and this is where the Women in Media Crew List started. We now have an easily accessible list full of skilled women that are ready to work.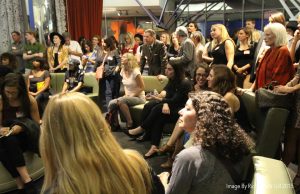 M: What is the goal of Women in Media?
T: Ultimately the goal is that we see parity in the film industry. The organisation is relaunching and changing, the goal now is to expand the program. We have since left the school but we continue the networking events and now we want to expand the program outside of just the US. With achieving parity, we are building new relationships with high-level industry people and the goal is always to get more women from the top down and the bottom up working at higher- level productions. This means bigger budget Independent films and studio films. If you look at the Women in Media Crew List there are over 2000 women who are skilled, available and ready to work. The issue is when you get to the bigger budget projects; a lot of people just don't trust women with the money. That's part of the mindset we need to change. Yes, we are starting to see growth but we're not there. We're not done yet. There is a lot more work to do to make it very clear that women in the film industry and women in general do excellent work. This is where the mindset has to change. We need women on these projects and there is an interest there. There are so many talented women at film school, so many talented female filmmakers. When I went to graduate school at NYU there were more women than men. So why aren't there more women than men working on set on all levels? There is a disconnect and I don't know if its from the union level or at the studio level and so its part of our goal. Parity is key. Since women are 50% of the population, women should make up 50% of the crew. It's simple. If you don't have women on your crew, the entire film and story is being told in every aspect from a male viewpoint. It doesn't make sense. Plus given the amount of the population women make up, you're leaving money on the table and frankly as somebody who is an investor, that's just stupid.
M: So, if we achieve this and there is parity on set, what happens then? What do you believe the impact of this equality will be and why is this so important?
T: At a very base level, it's about fairness. It's about the kind of world we want to live in. Would you want to work in or support a corporation that was just employing men and no women? What ideals would that represent? There should be women on every level, on every sector, in every position. We need to do some soul searching and ask, what is wrong with us? Why isn't this happening? Is there any reason why a skilled, educated and experienced woman should not be progressing in any industry at the same rate as a man? It doesn't make sense to me. I'm not saying people need quotas exactly but I think sometimes people at the top need to create their own internal quotas for hiring if we're going to move the needle on our own diversity, inclusion and parity issues and this doesn't just mean women, its means ethnicity as well. Everyone needs to be included. The reality is until men and women see women on set every day, working in positions below and above the line then they don't see us in that role at all. The people making films are the decision makers and until women are in that world, every day in those positions- we don't exist. Women need to be working in every role, adjusting light, the gaffer, everything. They need to be working in these traditionally 'male roles.' We need to have film and television that shows women in quantity, not just here and there. It needs to be happening in many shows and that starts on set.
M: How does the current political climate impact the role of women in the media?
T: It is a very fluid situation right now, obviously we face huge setbacks. That is clear. It's interesting our current political climate has meant there are so many people thinking about equality right now, thinking about feminism. Yes we have tremendous misogyny and bigotry in the US but I think there are a lot of people that are waking up to these issues because things have reached a kind of boiling point. In some ways, it was easier a couple of years to get away with these things, to sweep it under the rug. It's harder to do that now. People don't want to be the person on the wrong side of history, people don't want to be complacent so I think in some ways it could wake people up. We have a lot of history to draw on here; we have everything that women went through during the suffragette movement. The parallels are clear. What I'm trying to say is that I am optimistic.
M: What has your professional experience working on set taught you about the role of women in the film industry?
T: As a woman on set, I think it's important to highlight your competency upfront. You need to be very prepared; I find that if I'm over prepared that helps with the level of respect you receive. I have experienced situations where men have tried to bypass me in a professional decision, especially when I'm a department head and I have had to call them out.
M: Does that scare you? Having to call someone out or stand up for yourself like that? I think for a lot of women that can be really intimidating.
T: Well I'm from New York so maybe not so much. Look I'm easy to get along with. I aim to be kind to people. I don't need to get my way all the time. But you can't push anyone over that line in a professional context. It's my job and my responsibility, I have the skills and I deserve to be respected, as does every woman. Honestly I think women need to own their righteous anger. I'm not saying you need to yell and scream but we are constantly being told to be nice and that's not always true. People need to respect you and treat you that way, you don't have to apologise for yourself. You don't need to placate people. Sure, be polite and be professional but at some point you need to be straight up and be honest about what you need and sometimes that means standing up for yourself in a scary situation.
M: What can actors and anyone within the film industry (in front of or behind the camera) do to ensure parity and equality for women? What can be done in a small way that can have a big impact?
T: Number one, if you're a decision maker then hire women to work on your sets. Anyone can go to our Twitter and look at the hash tag #hirethesewomen. You can look at that entire thread and re-tweet whatever you connect with. Getting the word out is incredibly powerful. It may seem like a small thing but letting people know about these women who are doing really valuable work is especially important. Another really valuable thing anyone can do is find out who the female directors are that are doing good work and find out who historically the female directors are that have changed the industry. There are so many and people do not know about them. I work with a group called Seeking Our Story and we screen films of historical significance by female directors and just knowing about those people, it is so empowering. Women like Alice Guy Blache who was one of the first filmmakers. And not just female but filmmaker in general, she is considered the first narrative filmmaker. Women like Dorothy Arzner who created the boom mic. These are giants of the industry who we don't learn about. When we are erased from history that is disempowering. People need to know about this history, especially young women because it tells them that there is precedence for them to be in the film industry, they need role models. I would encourage women to find women who inspire them, be it historically or now. For women in the film industry I would recommend taking photos of women on set doing their jobs, not taking selfies and looking cute but sweating it out, hauling a dolly, adjusting lights. Then use the hash tag #getherintheroom or #hirethesewomen and tag #womennmedia on Twitter and we will retweet it. We need to see images of women doing their jobs with competency because until people see it, it doesn't exist.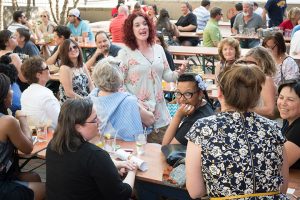 M: Lastly, what would you say to any young woman looking to forge a career in the film industry?
T: I would tell them to network, go to our events, get involved and understand the industry. You have to have something to show before you can get hired. You will have to apprentice in the industry, that's a given. Its also important to consider film school, not everyone needs it but it does give you important technical skills and contacts. You can consider community colleges, I work at LA City College and there are very inexpensive and valuable classes. You need to be a go-getter but that's true of any industry and you need to build your resume. I think women need to work their way up to become really great directors, they need to have a really high level of technical skill and you can gain this by working as production designers or the director of photography for a length of time before you would move into directing. It really helps to gain respect by working your way up and also it gives you the skill of being able to speak technically. Women in media just did a panel, we had six women who are all incredibly skilled and knowledgeable from different parts of their careers that were able to talk about the craft and the process of film making and how they support 'the story' with what they do. We had Julie Berghoff who is the Production Designer for The Handmaids Tale, we had Sarah Adina Smith, an incredible indie director to name a few of the remarkable women on the panel. They just had so much to say about the art and craft of making movies. Whilst it's important to talk about what it means to be a woman in the industry, it's also incredibly valuable to talk about just technical stuff. The stuff that as a filmmaker are the things you really love to talk about. I would say to any young woman you really have to love it, the hours are long, it's arduous, and you really have to love the format. But you get to work with really great people and it's exciting. You are creating something. And that means everything.
Comments
comments