Patrick James is a triple theatre of a different kind, a producer, content creator and actor best known for playing the acid tongued drag queen and screen siren that is Wilma Bumhurt in the online series sensation The Horizons. Patrick is the kind of dynamic creative that understands that the creation and development of new content is the way forward. Since we first met and became friends many years ago, I have been privileged to watch my friend go from strength to strength creatively, his presence and personality always a source of joy and inspiration in my life and the lives of those around him. Nothing has given me more joy than watching Patricks journey from first being cast as Wilma and his nervous discovery of how to approach playing a drag queen, very unfamiliar territory for Patrick, to now being an activist for the LGBTQI community and an outspoken defender for equality. His role of Wilma has literally taken him all over the world and granted him countless amazing opportunities including the opportunity to present at the Logies and even have his own spin off series, 'Where's Wilma?'  
The Horizon is now Australia's most successful online series and the worlds most watched gay digital series. The series produced is by Australian production company Cobbstar Productions, where Patrick now works as a producer, under the helm of Brian Cobb. The company which since its birth just a few years ago has gone from strength to strength, emerging as a leading production company in Australia and one that understands the significance of digital content in a new industry. The Horizons pilot released in late February is a very special edition, a full length reimagining of The Horizon on YouTube, directed by incredible Stephan Elliott (The Adventures of Priscilla, Queen of the Desert), to coincide with both the 40th Sydney Gay and Lesbian Mardi Gras and on the eve of celebrating it's 65th millionth view.
The hour-long episode of Horizon, starring Patrick James, Paul Layton, Matthew C Clarke, Anna Bauert, Julian Maroun and Adam George is based on the lives and loves of gay men in Sydney. The Horizon is Cobbstar's digital flagship series, which has achieved notoriety in Australia and around the world. It is Australia's most successful online drama and the world's most watched gay digital series. Since its debut in 2009, the series has spanned eight seasons with over 125,000 subscribers and 65 million views online. It is funded by Screen Australia and has become a prominent voice in the gay community.
In honour of this and to celebrate the incredible achievements of my friend, I was very lucky to sit down with Patrick James to discuss his transition into producing at Cobbstar Studios, conquering challenging roles, and the importance of accurate and authentic portrayals of the LGBTQI community on our screens.
'Follow your dreams. They know the way' – Kobi Yamada.
——————————————————————————————
Firstly, congratulations of the incredible success of The Horizon! 65 million views, that is incredible! You have been involved in the project since the first season in 2009, what has the journey been like for you?
Thank you very much, it's certainly a lot of views! What's interesting is that in the beginning, I was advised not to accept the role for fear of being typecast and to distance myself from gay content,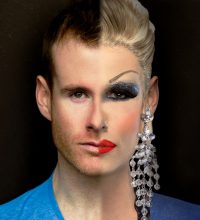 particularly a web series, a format that was uncharted territory to many back then. Now, I can proudly say it certainly has been one of the most challenging and rewarding personal and professional roller coaster rides.    
You initially auditioned for the role of AJ and were brought back later that day to audition for the role of Wilma Bumhurt, the fabulous drag queen in the series. At that time, you had no drag experience. How did you research for the role and what have you learnt from playing Wilma for so many years?
Yes! Wilma screamed risk and challenge, but she also terrified and excited me at the same time, perfect reasons to sign on.
However, here I was, a young actor struggling with internalized homophobia and Catholic guilt about to be doused with glitter, plucked, tucked and immersed into the world of Drag, an underestimated art form itself I knew nothing about, petrified how my performance would be perceived within the sometimes 'ruthless' Drag community.
I took a theatrical approach to Wilma through clowning and movement techniques and constantly worked on my voice, the challenge was to take this big bold colourful character and compress her for screen without losing her fundamental fabulousness.
Living a stones throw away from Oxford Street also helped, where there was an abundance of research material and a variety of different Drag performers, each with their own unique stories. Allan Harvey (aka Venda Machinea) was my make-up artist, after countless hours in the chair we formed a strong working relationship and friendship where I can still today lean on him for advice and knowledge of the industry, I am extremely thankful and credit him as being a big contributor to the transformation into becoming Wilma.
Wilma has arguably become the most popular character in the series and a kind of mother hen to other cast, was this purposeful in your creation of Wilma? Who is Wilma to you?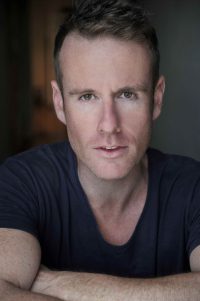 Initially Wilma was to provide a sort of comic relief within only a few episodes of Season 1. As the number of seasons grew so to did Wilma's popularity. What appealed to me was The Horizon writer/creator Boaz Stark's brilliant introduction of Dennis in Season 2, the boy character behind Wilma's mask. There, I was fortunate to go deeper into the understanding of why Wilma exists. Because without knowing Dennis, Wilma could ultimately fall into the trap of being a one dimensional caricature so I decided to approach Dennis with a sense of invisibility to Wilma's invincibility.
To me, Wilma's quick wit and acid tongue are equal only to her wisdom, strength and vulnerability that I hope has captured the hearts of our viewers.
The series has since gone on to become Australia's most successful online drama. Was that something you expected to achieve? What has the feedback from the fans worldwide been like?
I could never have imagined it. I thought after Season 1 that was it, done!
Now, after 8 seasons and on the eve of celebrating our 65th millionth view, it's testament to the hard work and dedication of our cast and crew. Fortunately, YouTube and with the continued support from our sponsors, it has provided us with an unprecedented global audience. It wasn't until we launched Season 5 in Los Angeles that the success of the series hit home. I feel culturally, in the USA particularly, you are encouraged to embrace your success, in Australia you are quickly taught to suppress it. It is a surreal moment when you get recognized and have your lines quoted back to you by complete strangers while visiting international cities.
What has been the highlight for you so far?
A culmination of appearing as Wilma in places I never thought possible, The Sydney Opera House, The Logies to Munich and LA. Launching her own spin-off talk show, Where's Wilma? And to finally obtain a visa to work in the USA.
Wow, that's all pretty amazing! Horizons also had the incredible Stephan Elliott (Priscilla Queen of the Desert/ Swinging Safari) direct the Horizon special and pilot, what was it like working with him?
Stepping onto set everyday was like stepping into a Stephan Elliott Masterclass. He created a safe and experimental environment. There were a number of scenes that required me to go to some dark places, he would let you take the floor and he would just follow. I trusted him and he trusted me. Actor's heaven.
Through your involvement with The Horizon, you have become an activist for the LGBTQI community. How important is to you as a creator, actor and producer that the voices of the community are heard and reflected in Australian film and television?
It is paramount. Without a doubt. Last year we witnessed a major political and social change within Australia – one that took far too long to achieve. It is time for the industry to move forward, work together and continue to bring equality and diversity to our screens by removing the stigma of the stereotypical portrayal of the LGBTQI community.
You have since become a producer at Cobbstar Productions, what has the transition from actor to now producer been like for you?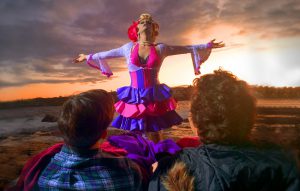 A gradual transition over the years but one that has also come naturally to me. It's been hard work, free labour and countless hours along the way.
Now, I wake up, I go to Cobbstar Studios to create and develop ideas while being surrounded by extremely supportive, creative minds that nurture the imagination and inspire each other. It's my dream job that I get to do right beside one of my best mates, Brian Cobb.
You are involved in many projects with Cobbstar Productions, I know some are under wraps. What projects can you tell me about? What is next for you?
We are developing a few projects – a comedy series, think unReal meets Episodes, also a reality series, where Wilma may make an appearance. I'm excited for the anticipated release of our latest digital series – Patricia Moore. We are currently in pre-production for our Virtual Reality (VR) Feature – Dream Channel. That should keep my busy for a while.
Finally, what inspires you to create?
First and foremost, as a storyteller, it is imperative that we tell authentic and honest stories that reflect our society and that deserve to be heard.
Comments
comments