"Successes are a bonus, but life is made of the process of following your passion."
October last year, I was sitting on my couch on a rainy Sunday night, throwing myself a pity party. The party involved me sitting in sweats, eating Postmates, and watching murder mysteries. I hadn't left the house for the entire day. I was ignoring text messages and just generally feeling really sorry for myself. I had been to countless auditions that month and hadn't booked a single job. I felt lost. To top it all off, and I had acute bronchitis. I mean oh my god, how long do you have?
At 11pm, as I sat wallowing in self-pity, I got an email from a director I had worked for earlier that year. He told me they wanted me to read for the lead female in the current series they were about to begin shooting. The next day, I put down a tape and two weeks later, I was on a plane flying to Mauritius to shoot the first episode.
This experience taught me some valuable lessons. Most of all how you just never know what is around the corner in this industry, whilst there will likely be heartache and rejection, there will be some magical, wonderful moments too. Here are some stories from a few of my friends that faced that same rejection and got through to the other side. I hope they fill you with inspiration and positivity and remind you to keep believing in yourself.
---
Arka Das – Actor | Film Maker (Lion, Top of The Lake, Janet King)
In 2015, I began auditioning for the feature film Lion. I knew the story really well and really wanted to get the role. I auditioned three times, each time sending tapes—twice in Sydney and another time while I was in Thailand with my best friend. He had to film me in the hotel on my iPhone that we had balanced on the fridge because he didn't have a tripod. I did my final audition and decided to just leave it up to fate. Weeks passed and I heard nothing. I had decided to go to LA and meet with my management there. One day, I was on a subway when I got a phone call from my agent in Australia, but I couldn't hear him because the reception was bad underground. Finally, I got off and was walking down Hollywood Blvd when I could finally get a clear reception; I had booked the role and would be in the film! I knew it was going to be a great film, but I had no idea it would get six Oscar nominations. You have to keep going because you just never know what is around the corner in this industry.
Holly Brisley – Actress | Producer (Home & Away, Life of The Party)
I started in the 'movie biz' way back when I was twelve—I always knew it was for me. From being an extra, I managed to get a few bigger roles, then worked alongside Parker Stevenson and Chad Everett when I was 15—it went from there. I feel alive when I'm on a film set; it's one of my favourite places in the world—it's not work, it's fun! However, sometimes we all wonder if it's sustainable. My best moment is a recent one, when I was invited out of the blue to play a lead in an independent feature film named Life of the Party. There are many twists and turns that define a career. I feel this movie has set me on the right path again; not only am I doing what I love, I can now also add producer to my list of credits as I kick off another feature film next week. I am so proud to be in this industry and I urge anyone who loves it as much as me to keep going. You never really know what's around the corner.
Les Chantery – Actor | Director (Cedar Boys, Pitch Black)
My very first audition was for a sci-fi film called Pitch Black. I'd never been in a casting room and I was completely out of my comfort zone. The casting director was using a pen to probe at me, as I had to imagine the pen was actually an alien trying to attack me and be terrified. Well, inside I was completely panicked just because of the audition itself. My genuine fear must have appeared as "good acting" because I booked the role. And I learned something valuable. Authenticity and courage go hand in hand. Now when I audition I know to embrace whatever is going on inside me as a "gift," because it very well might be.
Madeleine Byrne – Actress | Public Figure | Entertainer
When I moved to LA in 2014 to be an actor, I realized quickly that the road ahead was going to be an interesting one. We all see ourselves giving Oscar winning performances when we're kids, but in reality we're at cattle calls for a seven second Carl's Jr. commercial, only to lose the job to a 5'10" model who's definitely not eating Carl's Jr.! When I would finally get an audition, the part would go to someone with 30 IMDB credits or the daughter of a famous actress. I soon understood that the smartest thing one could do in LA was to set yourself apart from the thousands of people vying for attention. I started to make 15 second comedy videos just about my life in LA, and within a year was able to connect with many industry professionals because of my following and comedy ideas. Because of creating my own ideas, I signed with an amazing manager, wrote and produced my first independent project, and sat in meetings with some of the entertainment industry's biggest companies. I have never looked back and have always tried to stay true to my own ideas and my unique outlook on Los Angeles. People value independence and tenacity. Also, always be nice, stay humble, and show up on time . . . it'll get you far!
Brian Cobb – Producer (Indigo Lake, Horizon, The Dream Channel)
One of my career highlights was winning the City of Sydney accommodation grant, which gave us the keys to a tailor-made production space in Paddington, Sydney. The competition was fierce and a lot of people doubted we would be in with a chance. Did I listen? Did I doubt myself? Yes. But I also knew our plan and the capabilities of our team. The lack of support from some people ignited a fire that made me work even harder on the application. We won it, it's changed our lives, and you've never seen a bigger smile on my face.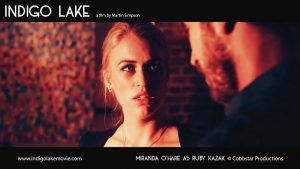 Martin Simpson- Director | Writer (Indigo Lake)
I finished writing my feature film Indigo Lake in 2012. Over three years, as I pitched it, the feedback was clear. The film was too expensive to make with me as a first time director. I decided to stop focusing on Indigo Lake and instead put my attention on an easier, more low budget feature I had also written. I gave this script to a cinematographer friend who then gave it to producer Brian Cobb. He'd read the script and liked the writing, but it wasn't for him; he asked me if I had anything else for him to read.
I explained I did, but it was too expensive for a first time director. Brian told me to send it anyway. So I sent him Indigo Lake. Twenty-four hours later he called me up and said, "Take out the fire, drop twenty pages, and we'll do this story for a third of the price." So I went to work. Last week, we premiered it. In spite of my opening night nerves, the audience loved it. And all those years of effor, rejection, and picking myself up again just fell away. I savoured the moment. The next day I took out a block of paper and started writing the next one. Successes are a bonus, but life is made of the process of following your passion.
---
Comments
comments