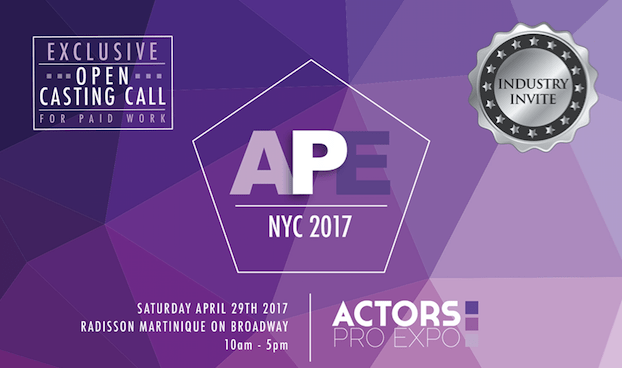 Casting Networks is heading to the 4th annual Actors Pro Expo event in NYC! A day for professional actors to come along and network with the industry. There will be Seminars, Workshops, 1-on-1 careers advice consultations, an open casting call for feature film 'Fiver' and generals with casting director Michael Cassara.
General admission, Seminars and 1-on-1 advice is all FREE! Industry-led workshops will cost $30 each and are available for advance booking online.
10:30am – 11:30am

Book A TV Season in 2017 – Q&A With Casting Director Kimberly Graham (Homeland)
11:45am – 12:45pm
Get Cast On Television with Casting Director Ross Meyerson


1:00pm – 2:00pm

Auditions & Dating: A Single Casting Director's Guide to Auditioning for Broadway
2:15pm – 3:15pm

Self Taping – The Key To Success – Panel Discussion with Casting Directors – Rita Powers, Cindi Rush & Caroline Sinclair
3:30pm – 4:30pm

Inside The Mind Of A Casting Director Q&A with Donna McKenna
4:45pm – 5.45pm
The Business of the Business: Being a Theatre/Musical Theatre Actors in New York with Casting Director Michael Cassara
About Actors Pro Expo
Actors Pro Expo was set up by actors for actors to help and encourage them in all areas of their lives as professionals. Expos run throughout the year in the U.S.A and in the U.K. (where it is called Surviving Actors), to help actors develop and sustain their careers and to create new opportunities for themselves. It does this by creating an environment where actors can meet industry professionals to help develop their career in acting.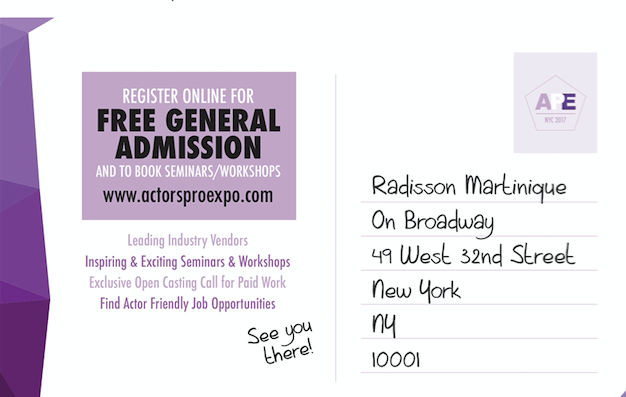 Event: Actors Pro Expo New York 2017
Date: Saturday, April 29th
Time: 10:00 am – 5:00 pm
Location: The Radisson Martinique on Broadway (49 W. 32nd Street, New York, NY 10001)
REGISTER FOR YOUR FREE ADMISSION & PURCHASE SEMINAR/WORKSHOP TICKETS HERE

---
Comments
comments