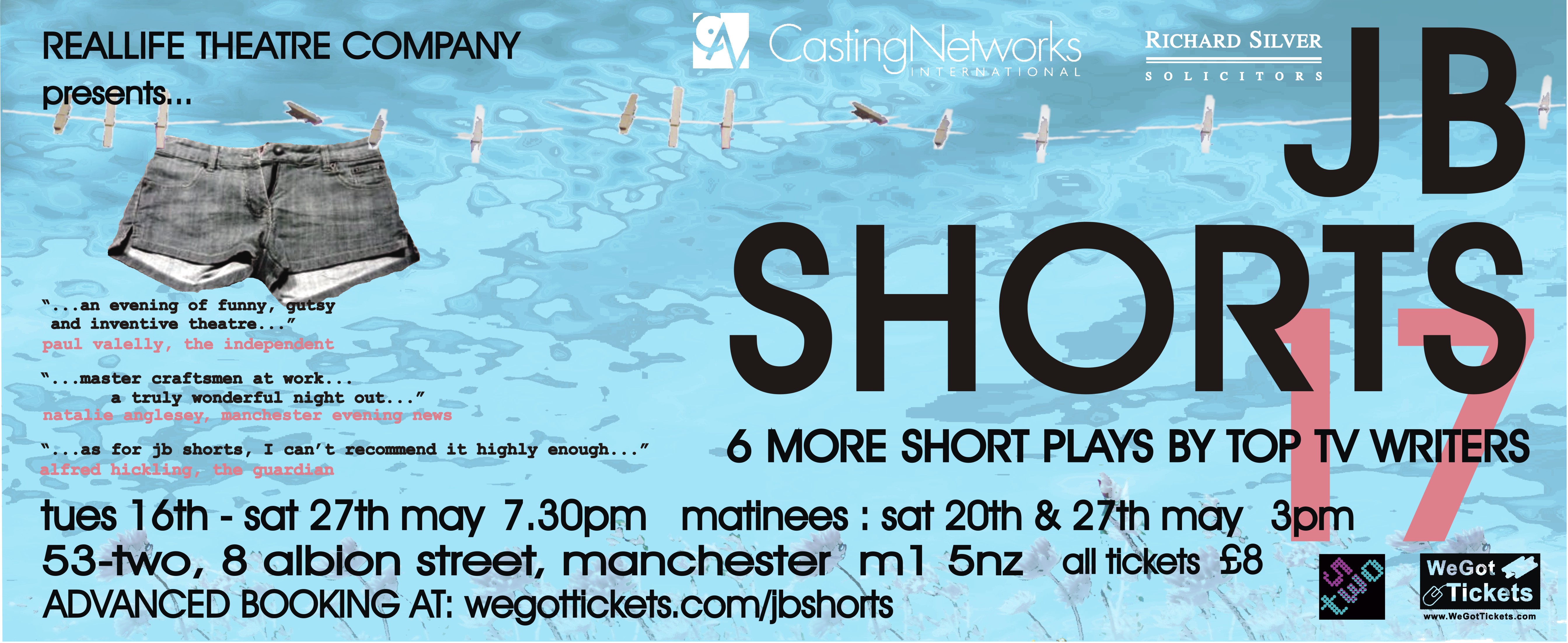 On Tuesday, 16 May, the incredibly successful JB Shorts returns to 53Two and this year Casting Networks are proud to be a sponsor of the 12 night 6 x short play extravaganza! So what exactly are the magic ingredients fed into the mixing pot to able to brew the delicious stew that is JB Shorts?
We spoke with Peter Kerry about what happens behind the scenes of this successful northern series. So . . .
---
How does the planning process for a season of JB Shorts begin and how does it evolve into the finished plays we, the audience, eagerly look forward to?
Peter Kerry: It begins with the producers (or core team)—myself, James Quinn, Di Whitley, Trevor Suthers, Dave Simpson, Lindsay Williams, and of course the all important Roger Haines. The process usually starts with a meeting and deciding which of the team will be writing for the next one, and then which writers we'd like to approach as guests to make up the numbers (JB Shorts comprises of six plays per season). Once this has been done, and the guest writers have been confirmed, there's usually a gap of a couple of months, during which time the plays will be written. There's usually a deadline of getting first drafts in about two months before the performance.
Once the first drafts have been written, they are given to Roger Haines who, after discussions with the writers, will approach a director best suited to each individual play. After the director has confirmed that they're on board, it's a question of organising auditions. Michelle Smith is continuing as casting director after coming on board for a successful JB 16. And then rehearsals, which each individual director does in conjunction with our associate producer, Hannah Ellis Ryan.
In the meantime, everyone else has roles in the organisation of the show. James and Lindsay tend to work on the publicity and marketing end of things, Dave and Trevor are in charge of finance, Di and myself look after the front of house business (including ticketing) for the run, while Roger meets/works with the directors, whilst also organising the technical team and running the technical rehearsal day, as well as the dress rehearsal.
---
It's incredible that year after year these seven people bring six new plays to being, attach directors, cast them, and sell them out all in the space of about 4 months, and when the process finishes they just about have time to have a quick lie down before they go and do it all again! We also can't forget all the other players involved in making JB Shorts a regular staple in the diaries of Manchester's theatre fans. It takes a great deal of discipline, time, and, most importantly, passion to keep producing an event of this scale, and that's something that will never be lacking behind the scenes of JB Shorts!
Tickets are now available to book
JB Shorts
16 – 27 May
53Two Manchester
www.jbshorts.co.uk
---
Peter Kerry is a British writer of radio and television drama. He is probably best known for his work on the ITV soap opera Emmerdale. Other television credits include Children's Ward, Big Meg Little Meg, and MI High. On radio, he has worked on The Archers as well as creating the sitcoms North East of Eden and Men of Intelligence along with dramatising the novels of Giovanni Guareschi, Terry Pratchett, E Nesbit, and Julie Myerson. He has also one novel published, The Scribe.
Comments
comments