Casting Directors:
New additions to our Sides functionality provide casting directors improved security and oversight on shared materials. You can now choose to share your sides and documents with all representatives, or with only those whose talent have auditions. If posting roles to the Casting Billboard, casting now has the ability to share files directly with talent by selecting "Post sides publicly on Casting Billboard."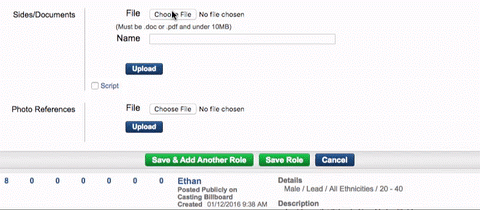 *Materials uploaded prior to this release will remain visible to all representatives by default and will not be posted publicly on the Casting Billboard.
The privacy of the information you share is important to us. New changes to the role release mean there is no default selection for releasing a specific role to Casting Billboard. Select "Yes" if you wish to receive public submissions for a role and "No" if you wish to release the role only to representation.

Size Sheets can now display talent email addresses! Choose "Show Contact Info" when generating a Schedule Size Sheet or Session Size Sheet Report and the email will display immediately beneath the talent phone number.

New project types include Music, Talk Show and Studio Audience.

Issues caused when talent are listed as a Callback Select in an archived role have been resolved.



Users should no longer encounter an error when selecting multiple criteria in our Advanced Search.

Submission notes are now viewable when viewing filtered talent.

Agents:
Each talent's email address will now appear within your Audition Call List, so you can instantly identify talent who will not receive forwarded auditions through your account.
Look for Sides and Documents to now be posted within role details in the project overview:

Talent now have the ability to list the following as skills, abilities, or preferences:
Parkour

Driver's License

Motorcycle License

Stand-Up Comedy

Hosting
Comments
comments