This month Casting Networks sat down with Lennie and Louise, who run SundaySurgery, an in-depth, hands-on script development workshop for writers, actors, and directors. Participants are encouraged to be bold during this intensive process, where they say everyone should challenged. Let's find out exactly what's involved!
---
Casting Networks: Can you tell our readers exactly what SundaySurgery is?
Louise: SundaySurgery has been running since 2010 and is a development workshop for new scripts, held on the last Sunday of each month. Although we deal primarily with early career writers, we do have more established writers coming in to the workshop as well. The workshops are very collaborative; we get professional actors and directors to work on the script with the writers in a very intensive rehearsal improvisation process. During the workshop, we look at a scene or script excerpt (normally 10-15 minutes of script), and we encourage the actors and directors to be very bold. After two hours, the actors perform all the scenes to the rest of the group. Everyone who attends, whether they're a writer, director, or actor, is able to use these performances as an informal showcase. We invite the industry professionals who attend our producer/director meet up, which is something Lennie set up, and participants can also invite their own guests. The number of people who attend the performances has really grown over the last couple of years, and we've now got a huge pool of 100+ writers, 100+ directors, and nearly 500 people we would count in our regular network.
Lennie: SundaySurgery was originally set up for dyslexic writers, but has since expanded to cover everyone. I'm dyslexic and it just made sense to create a platform where dyslexics and all neurodiverse artists can develop their work, without worrying about the technicalities of writing, such as structure and spelling, etc. and just have the space to develop their ideas in a non-judgemental and completely inclusive environment. The Surgery is part of DYSPLA, the company I set up in 2007 to produce events and festivals with a focus on dyslexic and neurodiverse writers. We set up the Surgery to help me get through reading the scripts for DYSPLA festival, because we were producing the festival but I couldn't cope with reading all the submissions. I would want the writer to bring the submission to the surgery, so I didn't have to read the script. I didn't think it would last as long as it did; sometimes you can start an idea and then after a couple of years everything just fades out, but this never faded out, it just kept getting stronger and stronger each year.
CN: What creative backgrounds do you both come from?
Louise: I'm an actress under my stage name of Louise Morell, but I keep SundaySurgery very separate from my acting career. I wouldn't want people to think I'm using the Surgery as a vehicle for myself. I have also always wanted to get into script editing, and so working in script development is a really nice partner occupation to have. I've also done a lot of new writing producing as well.
Lennie: I was always writing, producing, and directing just for fun, but never really thought about it as a career, but it just grew and grew over the last seven years. I prefer producing because I like to get things done, and I'm a bit bossy, and I also like the business side of everything. I really enjoy coming up with an idea and seeing it grow, but producing is really difficult if you've got no money, so it can feel like you're always going around in circles. I'm really passionate about growing the producers element of SundaySurgery, because although nothing can get done without a good script, likewise nothing can get done without the right creative team. Finding producers that want to take on a project from the beginning that doesn't have any money, thats the hard part.
CN: Where do you see SundaySurgery in comparison to other writing initiatives and new writing theatres that are currently around?
Louise: I think we see ourselves as plugging a gap between obscurity and getting your foot on the first rungs of the ladder. It can be very difficult when someone first starts out as a creative and, particularly for writers, it can be a very isolated process.
Lennie: I see us as offering something different to what's currently out there for writers. New writing theatres, I feel, have a monopoly on new writers, as they are able to offer very attractive development packages. But if you are a new writer and you haven't been picked up by one of the new writing theatres, where do you go, or, more importantly, how do you get to that point? We're here for people that might have an idea for a script, but maybe have not had the opportunity to work with a professional director before or with professional actors before. Until you hear your work read out aloud, you don't really know what you've got. Writers don't need to have finished their script, they can come with an idea, or a couple of pages. It can be their first script or they can be more experienced, but maybe don't have a network of professional talent to help them take it to the next level. We have one writer who we have been working with since we first started and she travels all the way down from Durham to come to SundaySurgery, because she hasn't been able to find anything else like this anywhere else for the same value. Having to produce something within two and half hours really pushes the participants, and, particularly for actors, helps them master those vital rehearsal room techniques.
CN: How much are actors encouraged to give feedback on the script; how involved can they get during the workshops?
Lennie: We pair everyone up, normally, the week before the workshop, so that they've got time to communicate and ask the writer questions about the script. Louise makes it really clear at the start of every Surgery that everyone should be challenged, so if something doesn't make sense, if your character doesn't feel authentic, if you don't feel that your character would do or say something, then you are to bring it up in a constructive way.
Louise: After each scene is performed, we have a peer feedback discussion, which we keep very constructive because it's about helping the writer get a handle on what is and isn't working, so that they can take their script to the next level. Even though we only workshop 10-15 minute extracts, very often the feedback a writer may get on a specific scene will resonate throughout the script. Very often the writer hasn't heard the script read out before, so even that in itself is a revelation, and then to get first hand input from other drama professionals, particularly actors that have to find the motivation within themselves, and if its not in the script then that's a difficult process for them.
CN: Can you share a few success stories with us?
Louise: A lot of scripts that have come through the Surgery have gone into production. There have been a lot of Fringe shows at venues like the Tristan Bates, the Etcetera Theatre, and other good Fringe venues around London. What we find very often is, writers have built their team mainly from the people they have worked with in the Surgery. Opportunities do arise from the Surgery and we have now also started staging our own rehearsed readings of scripts that have been fully developed at the workshop.
CN: So would a rehearsed reading be the next step for a writer after developing a scene at SundaySurgery?
Louise: Yes, it would be the next level up. We only stage rehearsed readings for plays that have been fully developed through SundaySurgery. We stage the entire play as opposed to a short scene, and have the director and actors rehearsing for the whole day not just two hours. The play is then performed it at the end of the day to an industry-invited audience. Its all about helping the writer get on the radar of the bigger venues. We will do a mail out asking people to attend the rehearsed reading—even that just gets their name out there in front of the eyes of the people that are making the decisions about which writers are going on their development program. And often the venue, even if they can't attend the rehearsed reading, will request the script to read.
Lennie: We are always wanting to expand what we can offer and thinking of new ways we can help writers. We now offer script editing and, after a rehearsed reading, the next level up from that would be ourselves co-producing a play. We are applying for funding to do more development work, so we can get to the point where we are producing scripts that have come through the Surgery, scripts that we've nurtured. We would like to sponsor a dyslexic or a neurodiverse writer to come to SundaySurgery for whole year—at the end of the year when they've finished their script, we would produce it and be able to say DYSPLA produced this, and from there we would start creating our own brand of theatre, but thats another 2-3 years down the line.
---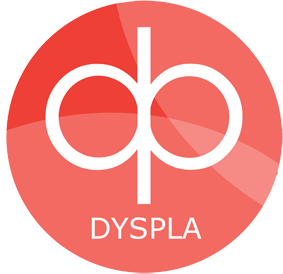 DYSPLA is run by Lennie Varvarides and Kaz Bielecki. DYSPLA produces SundaySurgery and Louise Balint-Kurti, is our in-house Literary Manager.
DYSPLA, a new word that means 'dyslexic storymakers'; the word that stands up for the untold stories you are yet to write and develops the stories you have written. 
DYSPLA also run the DYSPLA International Moving Image Festival is the world's first festival dedicated to screening the visual innovation of dyslexic and neurodiverse story makers, showcasing a collection of moving images dedicated to exploring dyslexic narratives. 
Comments
comments