Director and actress Aurora Fearnley has been making enormous waves on the UK film scene for some time now. Recently back from a trip to Sydney to attend the Sydney Film Festival with her short film Struck, there's not many festivals her award-winning shorts haven't been in locally, and even further beyond Britain. We were thrilled when Aurora agreed to be interviewed and talk about what it's like to cast and direct shorts, to be an actress herself, and what she has coming up on the horizon with her thrilling sci-fi short Pulsar.
Casting Networks (CNI): You have recently returned from the UK premier of your new short film Struck, produced by Sheffield based production company 104 films, the team behind films like Notes On Blindness and I Am Breathing. Can you tell us about Struck and the background of how the film came about?
Aurora Fearnley (AF): It was thrilling to screen Struck at the Edinburgh Film Festival with both actors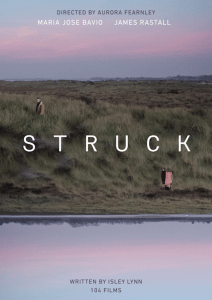 present. I see Struck as part of a new wave of films with the female gaze exploring pressures on masculinity in our modern age. It re-opens the debate that a woman's behaviour is to blame for a man's actions. It's familiar ground, yet Isley eloquently outlines empathy for both sides with no clear-cut answers.
Isley Lynn first wrote Struck as a stage piece. Sophie Reynolds, who was a producer on my previous short film Murmur, introduced me to her work. I wasn't expecting to be so moved by a short script, but I found myself brought to tears reading it. From that moment I knew I had to make this into a film, but it was over a year later that I got the opportunity with 104 Films.
I am a member of their 104 Digital Revolutionaries a growing force of inclusive talent. 104 Films specialise in the representation of disabled and disadvantaged talent, both on screen and behind the camera.
CNI: You also successfully won the 'Enter The Pitch' competition one of the toughest and largest short film funds in the UK culminating in a final pitch at Pinewood Studios. How did you prepare for the pitch and what did you take away from the process?
AF: The Pitch was one of my biggest lessons since leaving Film School. I would describe the competitive process of The Pitch to the X-Factor. The initial submission is an online 2min video pitch followed by public vote. The public vote is then mixed with the panel vote to select a final 10. Those ten go on a weekend bootcamp to prepare their pitch and test their story structure with industry seminars and training. A month afterward all ten filmmakers pitch to the judges in person at Pinewood Studios in a gorgeous and ostentatious oak boardroom.
The boardroom is pretty intimidating with six exceptional industry judges; also in the room are two producers and two financers and maybe also a camera crew. You have to really own the space. At the end of the day three finalists are selected, they stay overnight at a hotel and are given specific feedback on their story. That night they rework the pitch, try to sleep and prepare for the big one hour final pitch the next day.
I made it into the final ten for two years running, then the final three and eventually won it in my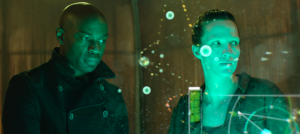 fourth year. That experience taught me to pitch. It also taught me resilience and tenacity. I believe good film careers are built on the determination to keep going after staggering rejection. Never give up.
In my fourth pitch I was using everything I had learnt from the previous years. This included a trailer of my work, a video mood board for the tone and style of film I wanted to make, a power point on story structure, character arcs, design and potential crew already involved. Finally I always left a printed PDF documents for each judge to keep with images, bullet points and an overview.
Here is a tip – At the end of a pitch I wish I'd asked this question "Are there any areas where the panel felt unsatisfied with my answers or it gave them doubts about the production?" or "What would be your biggest concern about putting this project through and can we discuss that now."
I remember getting feedback from a panel on losing a pitch and wishing I had known the concerns in the room, at least then I could have provided answers and ideas. In a pitch it isn't just about you doing all the talking, it is equally about listening to the comments/questions and letting everyone know that you have a strong vision but can collaborate.
In a pitch it isn't just about you doing all the talking, it is equally about listening to the comments/questions and letting everyone know that you have a strong vision but can collaborate.
CNI: Directing and acting are two different skillsets but ones that do tie into each other. What came first, acting or directing and what advice would you give to fellow actors who are thinking about developing their creative skills outside acting?
AF: I sought out acting when I was really young, first at junior school and then high school. Next I had opportunities to write and direct plays as a teenager, which I loved. Despite doing both as a teen, I got persuaded in my twenties to keep the two careers separate.
I knew I wanted to direct and my dream of being an actor was damaged by not getting into my chosen drama school at 18. Instead I went to film school, but I kept acting in films and productions at university. I proclaimed I took the roles just for fun, but in truth I was too scared to want it and didn't believe I was good enough.
On leaving university I stepped straight into being a director, shooting music videos and short films. In 2005 I was aware that there were very few female directors, it already felt like a steep incline into industry. On top of that I felt a lot of judgment when telling other professionals that I was an actor and it was hard enough saying I was director. No one in film encouraged my acting and I was even shamed by my current collaborators who advised to keep the two identities separate. Due to growing insecurity I excused taking acting roles as 'expanding my directorial knowledge', meanwhile my acting dreams stayed buried.
When I joined an acting school in London called AMAW I finally learnt that I had to stop denying my acting passions and step into the fear of damaging my industry reputation as a director. By then I realised that anyone who had a problem with me doing both roles would probably not be an ideal collaborator for me anyway.
The industry has changed a lot in ten years and the UK has finally caught up to LA with welcoming the polymath who is writer/actor/director/showrunnner. There has never been a better time to have a multiple skillset; in fact this is now highly desired. Technology has given actors the freedom to present themselves in the roles they want to do, to write complex and fascinating characters in narratives that are truthful to their own life experience. There are no excuses, just get out their and do it.
I do still keep boundaries between one role and another, but now I define both as part of the same artistic practice and expression.
CNI: What's next on the horizon for you as a director and actress and would you ever consider starring in a film which you would also direct?
AF: For a few years now I've had this incredibly exciting project "Pulsar" bubbling away in post. It is a hugely ambitious sci-fi short film with a great cast of rising and established talent including David Gyasi (Interstellar) and Jessie Buckley (Taboo).
The film is finished and the treaser trailer will be dropping vey soon.
It is fascinating how many people ask if I would act and direct in the same project. I think I would, at some point, but it would entirely depend on the relationship with crew and specifically my 1st AD and DOP.
My concern would be around the analytic side of my brain kicking in while watching playback. The last thing I would like as an actor is to be pulled out of my scene connection to evaluate performance or technical elements. Maybe that just takes practice. I have written a short called Paparazzo about the life of female photographer in London. It's a project that tears me between acting and directing; I'd love to do both, so perhaps this will be my first.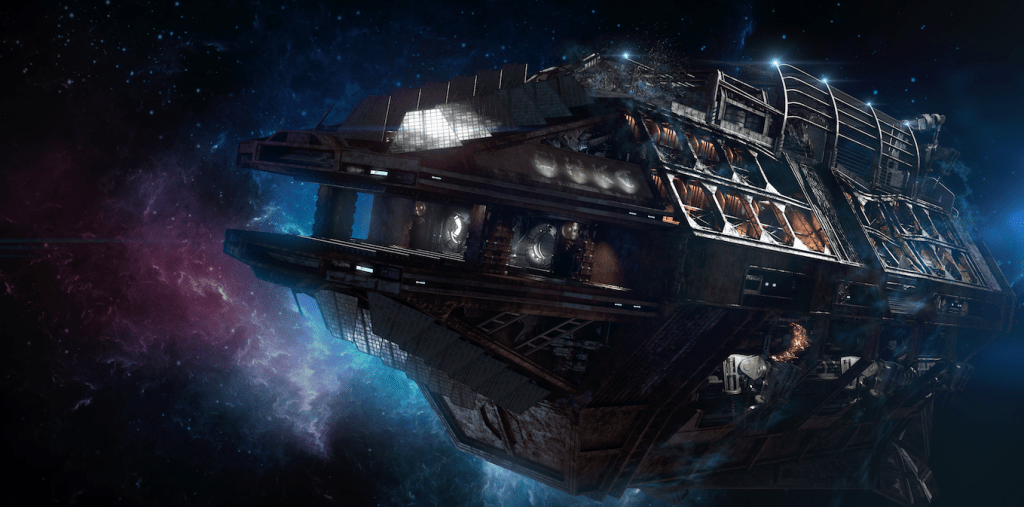 About Aurora Fearnley: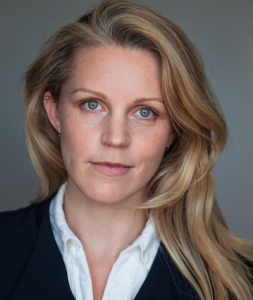 Aurora Fearnley is a first class NFS graduate writer / director who started her production company Little Northern Light in Leeds. Here she directed promos before winning the Epic award to make short LIFE ON THE LINE. Directors UK commissioned her short psychological thriller MURMUR, which had international festival success with Aurora taking awards as Breakthrough Filmmaker. Previously the UKFC funded her supernatural short SHADES OF LIVING, while her Sci-fi Nokia Short DANIEL premièred at Edinburgh IFF. After winning The Pitch at Pinewood Aurora shot ambitious sci-fi short PULSAR starring David Gyasi (INTERSTELLAR) and Jessie Buckely (TABOO) which is due for release in early 2017. She has participated in the Reykjavik Talent Lab 2016, Filmonomics 2015, 104 Film's Digital Revolutionaries, Creative England's Talent Centre 2015, VFX Script to Screen Ireland 2015, Screen Yorkshire's Triangle 2010 and 2013 and Women in Film and TV's mentoring scheme 2014.
Comments
comments