"When you create great art the rest will follow."
Luke Robson is the kind of filmmaker you can imagine one day quietly winning an Academy Award, then the next slipping invisibly back to work into teaching class or behind the camera.
Living as a homeless person for 5 days for his documentary No Right Turn and on $2 a day as part of the Live Below the Line Campaign taught him that "pride gets in the way of asking for help… if you lose that pride, you then have nothing. You give in to society and think that you are worthless."
Luke credits his development as a filmmaker partly to working with people with disabilities at The Gordon, explaining that his experience helped him develop visual storytelling because of the practical and heartbreaking obstacle that "most of the guys simply weren't able to speak".
"Telling stories has become a huge part of my life. And I'd definitely say that my earliest years on stage was the perfect foundation for a career that I'm very proud of now."
Over the past two decades, Luke's body of work spans writing, directing, producing and acting for film, television and the stage—with productions including site-specific, immersive work, literary adaptions, seven David Ives' comedic plays and his own productions as playwright (Changing the World, The Coach, Big Guy Dead on the Floor and stage adaption of Australian author Elaine Forrestal's Black Jack Anderson for WA's Festival of the Wind).
"I actually couldn't tell you how many plays and short films I've directed and produced over the years. It would be in the hundreds."
Luke is currently in production for his feature film The Disappearance of Frederick Valentich. His most recent short, Words of a Teenage Writer, stars Neighbours' Fletcher O'Leary and has just been selected to screen at the Action On Film International Film Festival, while short Black Holes and Labels has achieved finalist at the Eco Film Festival with lead Kayla Savi winning Best Actress.
Luke began his career as an actor (screen credits include Blue Heelers, Stingers, Stiff and Kath n Kim) but his real passion lies in helping his students blossom through his current teaching role at Melbourne's Acting Performance Studio. "I can't even express how rewarding a job like this is", Luke says of teaching. "To help develop, inspire and guide young artists is something that's very important to me."
"Stop waiting for someone else to make things happen and get busy creating your own work. Get involved backstage or behind the scenes and gain knowledge of the entire process, be it in theatre, film or TV".
The Surf Coast boy embodies the down-to-earth ethos at the heart of Australian national sentiment, playing down his successes and focusing on the impact he is creating for his students. Having trained at the Stella Adler Studio in LA himself, Luke regularly returns with young APS actors.
"The shyest kids often end up being the best actors, they have a vulnerability that the screen loves."
Behind his laid-back persona, however, lies a stringent and thorough researcher, focused on dedication and craft. "At film festivals and awards nights, I've noticed that often the people shouting the loudest are those who have done the least, whereas I've recognised people in the background as the ones actually making the work. Industry people know who is really who. Actors need to focus more on the art and less on their social media status."
"Take the focus off you and make it about the team, tell stories that you're passionate about, as you'll be spending a lot of time working on it."
From his experience running numerous APS casting workshops with leading Australian casting directors, Luke recommends the following:
 Show who you are. Casting directors generally cast you for who are you are, not who you can play. I've worked with fantastic actors who completely shut down their personality as soon as they enter the casting workshop room.
Keep it brief. A real life audition can only last 10-15 minutes. There's no need to drag the scene on— they will have a strong picture of you within the first few minutes.
Learn to turn your emotions on and off. Casting directors are often not fans of big emotional scenes. They want to see flexibility, that you can cry in one take, snap out of it and have a laugh then get straight back into business for the second take.
 Build relationships. All casting directors are different, and it's important to build a relationship in order to understand what they are looking for. It's also important to build that relationship with your agent. Just because you're not getting auditions doesn't mean that your agent isn't submitting you and you need to 'agent hop'— it's about building those relationships with casting directions so that they bring you in when your agent submits you.
Luke's final piece of advice? "Stop telling people how great you are and start showing them how amazing you are!"
Luke's 5 Top Tips for Success:
1.Collaborate
Respect, appreciate and be inspired by other creatives in and around your passions.
2. Love what you do!
There should be something that resonates deep inside you that drives you to be a part of the storytelling process. If you're doing it for acceptance, fame or fortune, then you're in for a long and lonely journey.
3. Have a life outside of your work
Life is what inspires art.
4. Don't be disheartened by one person's opinion.
Everyone has the right to an opinion (especially when it comes to creatives) and they'll all be different. You can't please everyone, but you can please yourself.
5. Research Research Research!
Research everything and everyone.
---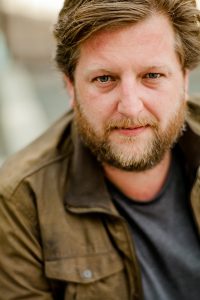 About Luke: Filmmaker, writer and director Luke Robson started off as an actor before moving behind the camera at an early age. Acting credits include: Blue Heelers, Kath n Kim, Stingers and Stiff. Luke is one of Melbourne's trusted acting tutors at the Acting Performance Studio where he trains some of Australia's most promising young talent. As well as writing, directing and/or producing over 100 short films, he has also written and/or directed over 40 theatre productions, with his own works including dark murder mystery Big Guy Dead on the Floor, Changing the World, The Coach, and the stage adaption of Elaine Forrestal's novel Black Jack Anderson for WA's Festival of the Wind. Luke first went to Stella Adler in LA in 2000 to study acting and continues to return with his students. He is currently in production for his feature film, The Disappearance of Frederick Valentich. For more information please visit IMDB.
---
Comments
comments