This month, the spotlight is on the Casting Directors Association (CDA), a not for profit organisation created by casting directors, for casting directors. The CDA supports and encourages equal opportunity employment, and their casting director members actively strive to advocate and promote casting that accurately reflects our global society. 
As a collective they have casting directors casting commercials, both big and small, as well as film and television (and the likes), and they offer support for their members within the collective. The CDA also created and host an annual Casting Awards – which will be on again this April. Here we talk to a few of the board members about the CDA, what they aim to provide, and how their arrival in the UK marks only great things for casting directors globally.
Firstly, can you tell us a little about how the Casting Directors Association (CDA) came to be formed?
Our main motivation for setting up the CDA was to provide a support network for Casting Directors who predominantly, work on commercials. We felt there was a need for us to work together to uphold professional standards and to provide a "hive-mind" so we can share our industry experience with one another. We also want to promote the role of the Casting Director and help demystify what we do and how the casting process works.
Casting Networks (CNI): And how often does the board meet to discuss all things casting directors, castings, awards and the likes?
Casting Directors Association (CDA): We have an annual general meeting of all our members but the board meet on a regular basis to discuss all things CDA and to talk about any issues or problems our members are having. We also arrange one-off events for our members – some social, as well as workshops and Q&A sessions.
CNI: From a casting director's perspective, what do you think are three of the biggest advantages of being a part of the CDA?
CDA: It's amazing to have the support of fellow Casting Directors. Casting can be quite a solitary profession, with many of us working as one-person companies, so being able to pick up the phone and have someone as a sounding-board is great.
We can share information and help each other – whether it be recommendations or advice on contracts and legalities.
There is always the advantage of numbers – if the CDA feels that something in the industry needs to change then whoever we approach knows that the majority of commercial casting directors are behind this.
CNI: And given our large Casting Networks actor audience, what do you think would be the key benefits to actors, having the CDA in the UK?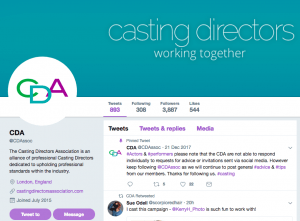 CDA: Sometimes it is tricky for actors to know if a casting call or breakdown is legitimate and above-board. Knowing that the CD is a CDA member offers reassurance that it is genuine and that professional standards will be met. We are all experienced professionals and the CDA has a Code of Conduct, which is strictly adhered to. Also the CDA proactively ensures that actors' fees and terms are the best available.
On a practical day to day level, actors can follow CDA on social media and access tips, advice and casting breakdowns.
CNI: Actors love to know how to get on casting director's radars, and the CDA certainly has a wonderful selection of established CDs. Are there any hard and fast do's and don'ts that actors should follow?
CDA: Each CD has their own personal preferences and advice but it's always best to keep communication short, succinct and to the point. Remember to include a link to your profile – this is better than sending loads of attachments. Keep it personal and avoid group emails. Following a CD on social media can give you an insight into how different CDs prefer to be contacted but on the whole don't use social media as a means of correspondence.
CNI: Over recent years there's been a lot of industry talk about the lack of recognition that CDs receive for the good work they do in relation to film, television, commercials and all things castings. Do you think the Casting Awards, that were created by the CDA, is having a positive effect on changing this perception? Or at least acknowledging some of the CDs out there who are doing great casting work?
CDA: We are delighted that in the past year the role of the Casting Director has began to receive greater recognition both within the industry and with the general public. The CDA Awards 2017 were the first in the UK to celebrate the art of casting and we think they helped bring our important role within the industry to the fore. One day there will be an Oscar for Best Casting – there has to be!
CNI: And finally, what other exciting things does the CDA have coming up that you can share with us?
CDA: We will soon be making announcements about the CDA Awards 2018 taking place this spring.
Comments
comments