This month we took a moment to get away from the
busyness
of acting, and instead take our breath away with some dream stuff…specifically,
Acting on a Dream
. As you'll learn when you surf through their very inspiring and exciting website, Acting On A Dream is here to make you stop and take a moment to think about what you want, namely your dreams and aspirations. The lovely duo who create the Acting on a Dream magic,
April Kelley
and
Sara Huxley
, share with us why they started the project, what it means now, and how aoad has evolved into a community of people who share a belief that anything is possible.
Casting Networks (CNI): Acting On A Dream has recently launched, so what exactly is this and what inspired you to develop this project?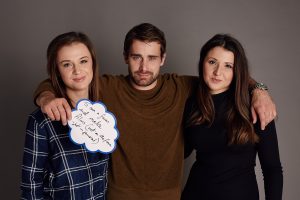 April: Acting On A Dream began as an online social experiment back in 2013 when I decided to design the first Dream Cloud (now the company logo) for a charity ball I had organised to raise money for Dreams Come True. I thought it would be really fun to ask attendees to write their dream in a cloud, to encourage everyone to think about what their dreams and ambitions might be. I took a photo of every person with their Dream Cloud and decided to put it up on social media so they were made to share their dream with the world and mark the moment. I thought of the name 'Acting On A Dream' as the purpose wasn't just for everyone to write down their dream, but also to act on it and make it actually happen! But, not only did people love the Dream Cloud, I started receiving dreams from all over the world and people started writing to me to say they'd now achieved their dreams, or asking to use the Dream Cloud as inspiration for talks and workshops.
When I met Sara this had all just begun to happen but I wasn't quite sure what Acting On A Dream was yet. I had a community of engaged followers but that was about it. We put our heads together and got very excited over what we thought it could develop into. Things followed from there really. We started posting a person with their Dream Cloud and a positive quote per day. Our followers started coming to us for daily inspiration and we knew we were on to something special.
Sara: Over the past 3 years we've had Dream Clouds submitted from people from all walks of life. Different ages, occupations, religions, communities, charities and even celebrities. Internationally, dreams have been received from Europe, United States, North Africa and the Far East. Two years ago we rather poignantly received a cloud from Afghanistan, from a young woman whose dream was to have an education. This was the big turning point for us. We knew Acting On A Dream wasn't getting lost in translation and that we had a duty to create a space where people could come together and inspire each other.
We decided we were fed up of negative social media spaces, which can be so damaging to people's mental health and well-being. We wanted to create an online hub to raise awareness for charities and the work of individuals. We also wanted it to house positive content and articles for motivation, self-worth or inspiring stories. We finally decided what we wanted it to become. Acting On A Dream had evolved into a positive media company, a bit like a UK version of American companies 'Upworthy' or 'Soul Pancake'.
CNI: What are your dreams, for the project and personally?

Sara: Well, we created something called the 'Dreamer Series' which was a series of filmed interviews with well-known faces being asked our '8 – Dream Questions'. The difference in answers from all 11 participants in the first series is fascinating, particularly our interviews with Jeremy Paxman and Kate Mosse. They were both so amazing to interview and have had tremendous careers. We wanted people to be able to hear first hand what inspires them, how they motivate themselves and how they've got to where they are now. That was the purpose of the questions, to tease these answers out of them. Our first series was partnered with Dreams Come True charity to help raise awareness. Our goals for the Dreamer Series are to have an ongoing series that people recognise. We want to partner with a different charity each time and spotlight a whole variety of amazing people, to gain an insight into their journey and create an ever-growing collection of inspiring content.
April: We also want our community to keep growing and for Acting On A Dream to be recognised worldwide. A bit like the 'ice-bucket challenge' or the 'no make-up selfie', we want the Dream Cloud to be a recognised tool for awareness so whenever someone posts a picture of one, others know what it's about. We've already hit 15k followers on Instagram and over 11k on Facebook. We think what we've built is sustainable and we both have so much we want the website to evolve into. The website we've launched is just the beginning of what we eventually want to create!
April & Sara: And personally we'd love to take a Dream Cloud all around the world and create a video series celebrating the diversity of all cultures, religions and genders.
CNI: If you could each pick one person to interview for the Dreamer Series who would it be? 
Sara: I would say… Beyoncé. I love that woman, she's just incredible.
April: Kate Winslet, because she's actually done a Dream Cloud, so it would be amazing to have the chance to interview her.
CNI: How can people get involved with Acting On A Dream?
Sara: Ah yes, this is the moment we've been waiting for, haha! Go to our
website
 and sign up! Make you own
Dream Cloud
, watch the
Dreamer Series
and if you feel bold then submit an article to the website.
April: You can also follow us on all our social media platforms for daily inspiration.
CNI: What are your dreams for the future of Acting On A Dream?
Sara: To do Dream Talks inspiring young people in schools all over the UK (and world…we've gotta think big!); To hit 1 million followers that would be INCREDIBLE!; and to partner with a mental health charity for a Dreamer Series, that would be awesome. We feel very passionately about mental health.
April: To get our second Dreamer Series sponsored and for the website to develop into everything we want it to do; To be the 'go-to' for people who need a positive boost, or even just to help them get out of bed and face the day.
CNI: Any final thoughts?
April & Sara: We guess finally it's to use Acting On A Dream for good. That's the ultimate goal. To be big enough to actually donate money to charity, to push out big awareness campaigns and to actively make a positive change in the world.
---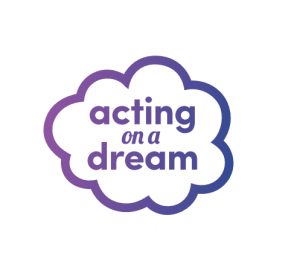 Comments
comments