"I believe very strongly in the quality of an ensemble spirit"
-Damien Ryan, Managing Artistic Director, Sport for Jove.
For many actors home is where the theatre is. Whilst the big bright shimmering lights of Hollywood lure many of us into the world of motion pictures, there is something comforting about the authenticity and artistic freedom of the stage that permits actors of all different merit to tread the boards throughout their careers.
Sport for Jove (SPJ) is one of Australia's leading independent theatre companies. As a producer I have always admired their hard work and cultural contribution to the independent art scene and, as an actor I have always been in awe of their immense talent and vision.
Managing Artistic Director of SPJ is the multi award winning director Damien Ryan, with a career that spans over 20 years in the industry as an actor and a director; Damien has been the driving force in cementing SPJ.
In the midst of another successful outdoor summer season, Damien shares with us a detailed and insightful look into Sydney's most compelling independent theatre company. 
---
Alixandra: How did Sport For Jove Theatre Co. develop into one of the most flourishing and well respected theatre companies in Sydney?
Damien: Thank you Alix, that's really lovely, but truly any sense that we have flourished is really a reflection of an unbelievable energetic sector – which really just means the people themselves. The extraordinary artists – actors, creatives, crew, producers who work across many companies both at an indie level and in the subsidised theatre sector. If there is respect for any company in an itinerant business like theatre, it belongs to the itinerant artists who make the work that keeps that company alive, and I am increasingly inspired and moved every year by the work being done by so many wonderful companies in our sector. Such originality and initiative, such imagination and commitment and, for a lot longer that SFJ has been around, indie companies have been fuelling this arts sector with their expertise up against every financial and capital restriction you could imagine, yet still surviving. We are simply a part of that tide. Without this sector, new and emerging voices and venues in this country have no consistent platform to express themselves and we owe it to them to keep trying to keep the sector viable.
I've been thinking a lot about the company's survival and development lately, as we start discussions about how we will celebrate our 10th anniversary as an independent company in 2019. 10 years has certainly been a challenge. But it is not hard to identify why we have survived, it is the people as I said, the artists, and those people also extend into the business sector, people who care about the arts, companies and philanthropic individuals with a genuinely altruistic attitude about the importance of theatre in our communities and about the disproportionate nature of what our economy values and remunerates.
Theatre is very hard to sell and needs new ideas and a commitment to excellence all the time and that is hard to sustain because this business can wear you down. Between all of us in our sector, we need to keep trying to find ways to remunerate artists commensurate to the work they are doing and the theatres we are performing in. That is certainly our biggest focus as a company and slowly but surely we are getting closer, but have a long way to go before I think we could genuinely be considered to be flourishing. We are trying to consistently produce half a dozen shows per year in order to provide work opportunities for as many actors, directors, designers, production staff, and now writers (which is probably the most exciting new development for us) and the toughest challenge of all is trying to break through the pay ceiling for artists that unfunded companies face.
Four of our productions in 2018 will be Equity paid without assistance from funding bodies which reflects an annual improvement but we are still not self-sufficient and we need to get there. Until then, the people that deserve 100 per cent of any respect we may have garnered are the artists who make and present the work. They are the major sponsors of this sector, subsiding every show with their talent, their time and their ideas, and should be thought of as preciously as sponsors are in every other sector, until such a time that their hunger to work and their incredible need for creative expression is adequately remunerated across all parts of the sector and that has to be our aim.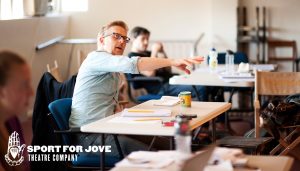 A: For the actors reading this, what does SFJ look for in the audition process?
D: Auditions should always feel like a rehearsal to me, an opportunity to work with an actor, to remove as much as possible any sense of test or tension and to simply work on a role together, to get a genuine sense of what a collaboration would be like and that responsibility is as much ours as the actors. However, it is certainly something that actors can help create, through the openness of their attitude, their preparedness and understanding of the role they are exploring, their versatility in approaching different perspectives on a part etc. Once that atmosphere is created, in an audition, I guess some of what we are looking for is naturally role-related at times, a particular skill set or relationship to the ideas in the play, it is hard to avoid that pragmatic reality. Beyond that, I believe very strongly in the quality of an ensemble spirit, of generous actors, a love for and curiosity about language is important in the work we do, boldness and playfulness, and a great work ethic.
A: Most rewarding SFJ experience to date?
D: The work we do with students is probably the chief source of reward for us, there are a group of really brilliant actors and teaching artists who are making such a difference in kids' lives and that is a great source of inspiration to us. Outside of that, a couple of highlights for me would be working on challenging and unusual projects like No End of Blame – an amazing cast and a collaboration with artists in the cartoon and fine arts sector was just a delight! It was the hardest and most interesting project I think we've looked at yet, very rewarding. Other than that, it is probably watching a group of actors deal with a wet weather show in the summer festival, it has a painful delightful agony to it and always creates a very special relationship with an audience.
A: Why Shakespeare?
D: It's probably a dumb response but because it is really good! I can objectively say that I am yet to meet an actor who, in really working on the floor with these plays, is not challenged, changed and improved by the process of doing so, particularly now that there is a more serious attitude toward female actors exploring the full canon of roles that have always been so rewarding for men. Shakespeare is likewise a wonderful platform for designers and all creatives due to the sheer range, vivid ideas and implicit scale. Shakespeare is hard on every level and it is so playful and exuberant at the same time and I remain completely committed to it. But it is funny, and great, that we are still so strongly associated with Shakespeare as a company when of our last 18 plays, including our season this year, 6 have been Shakespeare's and 12 from other playwrights including 5 Australian plays, plus 2 new Australian adaptations, so we are quite broadly focused now as a company.
A: If SFJ could be defined as one Shakespeare character who would you be?
D: Hmmm, tricky one! Probably Rosalind and Celia, trying to make a life work outdoors in a strange forest, in the churlish weather but still having fun; hopefully a bit of Horatio, something of a drifter but endlessly inquisitive; certainly a bit of Hamlet, depressed, mad and trying to make the Murder of Gonzago look good on a poster; a bit of Portia, dressing up like we know what we are doing and walking into a strange room to fly by the seat of our pants.
However, we'd probably most resemble what would happen if one messenger played all of the messengers in the War of the Roses, all 300 of them, endlessly running, trying to get things done in time, never working in the same terrain from one minute to the next and just generally confused…
Comments
comments