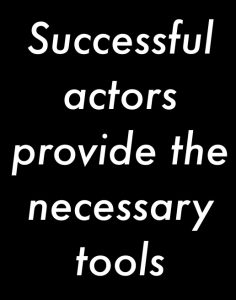 Actors are born hustlers with their determination reflected in every waking moment. Thankfully, contemporary society has opened up revolutionary avenues for the ambitious actor to reach career objectives at the very fingertips of the aspiring talent.
Technology is a blessing and when utilised correctly can propel ones career to infinite heights. As actors we put much of our faith in online communities like Casting Networks International (CNI) to deliver their own performance as the go-to site for information about the industry including castings, blogs and seminars. At the press of a button actors and agents can submit interactive profiles complete with resumes, media and photos suitable for each respective job. Blogs and free seminars provide members with essential knowledge and networking opportunities.
However, the day-to-day mechanisms that go into running the worlds biggest casting network in the world is often foreign to the very people who subscribe. Knowledge is power and in this months blog I thought I would give you a little insight into what happens in our head office in Los Angeles.
Michael Daly worked at one of L.A.'s largest talent agencies and has nearly 30 years of agency and industry experience. He is now one of the few CNI employees who has held the same post since he started working at the company, in 2007. When not assisting the agents and employees of CNI, Michael can be found enjoying the outdoors in the Lake Tahoe area or in his home state, Wyoming.
---
Alixandra: You are the Director of Agency Relations at Casting Networks International. What does your job involve?
Michael Daly: I work with agents throughout the day, assisting them with several different aspects of Casting Networks. The agents are under a lot of pressure. They expect their problems to be resolved quickly, whether they are related to our software, their talent/talent profiles or to their specific CNI accounts. I primarily work with the agents in California, but am here to provide help for our employees that may need assistance with agency-related issues in other regions and countries.
A: As a former talent agent how does Casting Networks benefit the daily life of not only those booking the talent but also the actors?
MD: As an agent pre-internet, I quickly became a fan of Casting Networks. It has streamlined the agent's workflow. Agents benefit because Casting Networks provides quick and simple solutions for talent submissions (finding specific talent according to casting's specs, adding submission notes to highlight qualified talent, selecting correct images for specific submissions.) Talent benefit by having Casting Networks profiles, not only to help the agents in making correct decisions, but when being considered by the casting directors. There are a lot of eyes on profiles during the casting process, including directors and producers. They all expect detailed resumes with training as well as credits, accurate/pertinent skills, media to display those credits and skills, and of course appropriate images.
When talent provide the agents with robust profiles, both benefit by having exactly what the casting director is looking for.
A: What were some of the highlights of being an agent in such a highly demanding industry?
MD: It's a lot of work, but the satisfaction of booking a client and seeing the final product is highly rewarding. That is the goal. Agents are included with the latest trends, and are expected to provide talent to accommodate those trends. Casting directors rely on the agents. Having what the casting director needs is certainly a highlight, for any agent.
A: Whats the number one advice you can give actors on getting the most out of their Casting Networks profile?
MD: Successful actors provide the necessary tools. In today's world, the casting directors want to see your experience before they bring you in.Take advantage of the tools within your profiles: Current photos, media to highlight credits on your resumes, media to highlight skills you are proficient at. Training. Classes. Workshops.
A: Given your wide experience in the industry what makes an actor successful?
MD: A successful actor never stops training. They're always a step ahead of those who don't.
---
Comments
comments