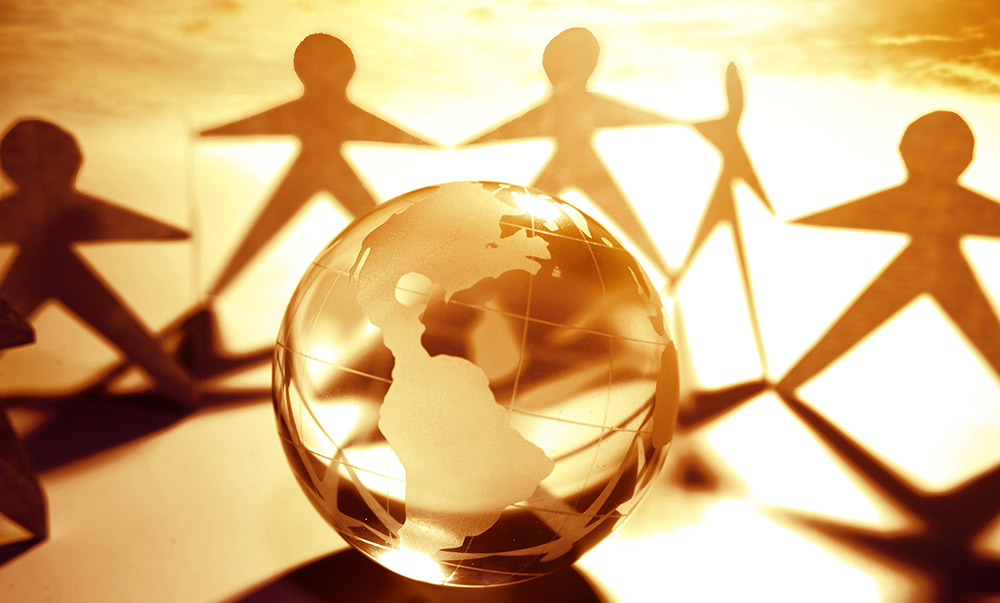 "No matter what anybody tells you, thoughts and ideas can change the world"
– Robin Williams in Dead Poets Society
The world today is a precarious place with humanity at the immediacy of the media. The endless variety of news platforms submerges us in every glorified facet of existence; ignorance is no longer bliss when the ability to access information is expedited straight to our fingertips. With every click of a Facebook post and Twitter mention we are catapulted into the global perils of society.
Remember the film Clueless? Cher Horowitz depicted a modern day version of Jane Austin's Emma in the coming of age comedy about a teenage girl and her friends growing up in the lap of luxury in Beverly Hills. Together the teenagers tackled high school, freeways, siblings, fashion and relationships in a much simpler world. Clearly, not everyone is as fortunate as the 16 year old Cher to grow up in a mansion with columns that "date all the way back to 1972" yet, the cult classic undeniably reflected the purity of a time when anxiety and terror were at an all-time low, with the latter barely even a flicker in our sheltered lives. Aside from Clueless being a favourite movie of my youth with its epic one-liners becoming a fixture in my adolescent (sometimes even adult) vocabulary, it also represented a happier time, a time when people seemed to be nicer – and not just sporadically either. One may say the film marked the end of the age of innocence when we had a "way normal life," our only direction was "to the mall" and before the world became a "full on Monet" aka "just a big old mess."
With current global events shaping the landscape of our evanescent lives it's imperative that we, as artists, contribute whole-heartedly to the cultural economy. The stories we tell can provide comfort and humour in a distressed and often broken world. No narrative is too small and no idea is ever too big. So, this month as the inspirational talents that you are, I ask you to think of 5 ways you can utilize your ideas to change the world and maintain the exquisitely beautiful place we live in.
How does the climate of our times influence your work and how can you use your voice to shape the plot of humanity?
Share your thoughts on Instagram, Facebook and Twitter if you tag us I will be sure to repost:
Meanwhile, in the company of my fellow Australian Bloggers; Alison Mcgirr, Alys Daroy and Miranda O'Hare we will get the ball rolling by sharing some of our thoughts in the hope that you will too.
Alix
xxx
---
Alison Mcgirr: As a female, a daughter, a partner, an aunt, a friend and an actor, I want to inspire the women in my life to live a fully realised life. To be proud of every last bit of who they are; how they look, what they feel and their dreams and ambitions. In a world so heavily run by men and their clubs, it is imperative to nurture the feminine, to listen and see all stories – be that our women and children, but also our planet. We are forgetting Mother Earth is a gift, and we are destroying it whilst the powers that be live in denial.
If my art can incite one thing, I want for it to be respect. Respect for our fragile environment, respect for humanity, for love, for equality, for creatures great and small. If we all turn the respect up, the world would be a better place.
---
Alys Daroy
Create and watch comedy: "[We have] unquestionably one really effective weapon—laughter. Power, money, persuasion, supplication, persecution—these can lift at a colossal humbug, push it a little, weaken it a little… but only laughter can blow it to rags and atoms at a blast. Against the assault of laughter, nothing can stand." – Mark Twain.
From Meryl Streep and Saturday Night Live to Twitter comedians and a multitude of anonymous Instagram satirical meme-makers, creatives are parodying the ridiculous, the infantile and the unjust. When life gets heavy, we need to laugh more than ever. Laughter bonds, it thumps the wind from the sails from ignorant ego-maniacs and angry fanatics. It has the power to cut through tension with an injection of warmth, drawing us back together. Most importantly, it is the ultimate Trojan Horse, through which we can hide facts, knowledge and truth and reach the minds and hearts of those outside of our own echo chamber.
Tell the story of the weak and the defenseless: There is a time to stay silent, but not in the case of injustice. "Sensitive people care when the world doesn't because we understand waiting to be rescued and no one shows up. We have rescued ourselves, so many times that we have become self taught in the art of compassion for those forgotten." Shannon L. Alder. Champion the underdog. By telling stories of the marginalised and persecuted, we as actors, writers and artists can help create compassion and empathy for people, animals and places who audiences may not otherwise come into contact with. We all love to see the little person succeed. Tell that story or support the artists creating them.
Be political:  "Education is the most powerful weapon which you can use to change the world." Nelson Mandela. A good friend of mine is a successful comedian with her own BBC sitcom. Despite being flat out recording, she is currently door knocking in London to encourage people to vote in the current election (where it isn't compulsory like Australia). You can imagine the amount of hostility and abuse she has received – yet she daily and successfully converts people's life-long voting choices by explaining the true statistics and situation which we are so often misinformed about by tabloid media. If something is important to you, speak up. It may not be easy, but without having the conversation we have no hope of change.
Use your social media:  "I would rather be an artist than a leader. Ironically, a leader has to follow the rules." Criss Jami, Venus in Arms. Share petitions on Twitter, post joyful, inspiring pictures on Instagram. Respond to inaccuracies on Facebook with polite and respectful counter-facts. Be brave and speak up. Never before in history have we had the opportunity to participate so personally in the media and create a powerful counterculture against hegemonic power with hope, truth and justice.
Support each other: "Talent perceives difference, genius, unity." William Butler Yeats. We have nothing to fear from supporting each other's success, but everything to gain. The more we can champion each other in an inclusive, welcoming, diverse community, the stronger we are as individuals and as a group and the more beautiful world we can build.
---
Miranda O'Hare: You can't deny the power of content and as an actor and writer, I am constantly examining the human condition to better understand our world and also myself.
Given our current political climate, it is clear more than ever that we must review the content in which we create and investigate the messages it may perpetuate, continue and reinforce.
As a feminist, friend, sister, aunty, daughter and working actress with my own experiences of being on set and involved in content, I know how important it is that women are involved in the stories we are telling.
To achieve this, we must ensure that women are supported in all aspects of the industry both in front of and behind the camera. Through this, we will have honest, all-encompassing content showcasing women as real and three dimensional, not subservient to any male counterpart or as a sexual ploy in the narrative.
I truly believe in doing this we will empower women immeasurably and change the way women are seen and treated in the world.
---
Alixandra Kupcik
Let go of fear: Be fearless in your approach to your work. No matter what you are writing, performing, creating, whatever you are doing, your ideas are valid so do not be afraid of what people may think. Anything is possible. Fear is debilitating. You already know everything you need to know. "You have brains in your head. You have feet in your shoes. You can steer yourself any direction you choose. You're on your own. And you know what you know. And YOU are the one who'll decide where to go…" Dr Seuss, Oh, The Places You Will Go!
Aim to inspire: Ever met a naysayer you liked? Me neither. There is no denying there are some ugly things happening in the world so why feed into the dispirited nature of those who fail to believe in dreams. We have one life, if you believe in yourself and your dreams, others will believe in you too and if they don't then still believe in you and most of all never be the person to disenchant anyone. Always be the person who encourages and inspires. We are all on our unique journey and you never know where someone may end up. A man was once fired by a newspaper editor because, "he lacked imagination and had no good ideas." That man was Walt Disney.
Speak up: "There is a vitality, a life force, an energy, a quickening that is translated through you into action, and because there is only one of you in all time, this expression is unique. And if you block it, it will never exist through any other medium and will be lost." Martha Graham. We all have a voice and when your chosen vocation relies on a form of self expression you become a crucial vessel for society. It is just as equally wonderful when you do not agree with something as when you do. We often shy away from expressing our feelings and beliefs in fear of upsetting someone because we all want to be liked. Right? However, what is wrong with having a dialogue about something you care about? As long as it comes from a place of love, not fear and you know your audience, remain open and above all listen to others no harm can be made. Express yourselves not just as artists but as civilians and above all do not judge others for having different ideas. Just wish them well and be on your merry way.
Listen: It may sound simple but listening can often be the hardest thing to do and at a time when there is so much white noise permeating our lives it is easy to become complacent and forget how to listen. There is much we can learn from each other, always be present in life – just how you would if you were in front of a camera or on stage. "All the world's a stage, And all the men and women merely players…" William Shakespeare.
Choose Love: You know the drill. Just BE love, be happy, laugh and shine like the glorious talents you are. My God, life is truly overwhelming sometimes and we all (particularly as artists) have a tendency to go to that dark place. Don't allow yourself to be fueled by jealousy or hate either and don't be threatened by people – their successes and accomplishments. Everyone is fighting their own demons no matter who they are so stop comparing yourself to others. Instead let these people inspire you to be your best. Meet pain with love always. Anger with love. Indecision with love. It requires patience and can be easier said than done, especially at times when stress and doubt can take over our psyche and we feel the weight of the world on our shoulders. However, love is always the answer. The love you have for life and humanity will be reflected in your work.
---
Comments
comments