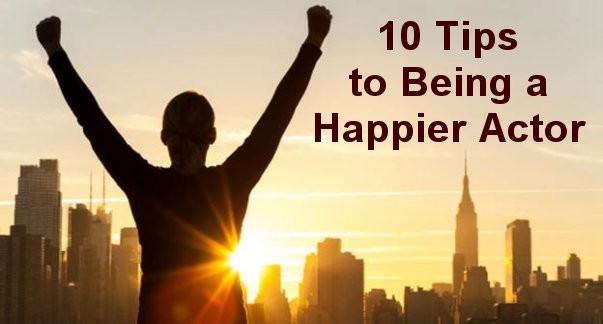 How can you be the happier actor? Possibly the happiest actor on Earth? (Planet domination of joy may be theme park hyperbole.) If we're to believe Irving Berlin, show people are deliriously happy—branded so in his jaunty show tune lyric, "There's no people like show people. They smile when they are low." Possibly the only show "people" who match Berlin's optimism are the saccharine animatronics singing at Disney's Its A Small World.
Actors endure more rejection per week seeking temporary employment than does a "civilian" hunting for permanent employment in a month. That's a lot of lows at which actors are to smile (thank you, Mr. Berlin). Yet actors push forward, actors seek coping skills, so as not be mired in the debris of rejection. The happier actors rise above the pile of dismissal. Atop the carnage, actors look out on to the horizon for what's next. How do actors keep their smile while facing adversity?
1. Equalize Auditions
Equalize all auditions with the same goal and manner of importance. Stressing more importance on one audition over another places unnecessary stress, worry, and anxiety on the actor.
All auditions offer individual opportunities for actors to show their skills with a spirit of fun—a period of control the actor owns. When placing all auditions on a level playing field, the lifelong career process of auditioning is no longer intimidating or a cause for worry. The audition is but a cog in the wheel of effectively pushing forward the machinery of the actor's industry.
2. Make a Post-Audition Plan
Stage and screen star James Rebhorn spoke of his auditions as a part of his ordinary day. He'd plan errands to do afterward, so that the audition didn't dominate the day or his focus; his life dominated the day. His auditions became more relaxed. He was comfortable. Onward he'd go to his next duty for the day.
One Broadway actress volunteers after her auditions to feed the homeless at shelters, some actors schedule to volunteer to assist at an animal shelter, or to work with children with disabilities.
Plan something productive for directly after an audition (or series of consecutive auditions).  The happier actor is the actor who gets out of their head after an audition and jumps into life.
3. Don't Advertise Auditions
When actors announce on social media that they "have a huge audition" later that day, or need "your prayers and support for a big callback," the actor is placing undue pressure on themselves. The actor now must live up to their social media audience's expectations, an unnecessary weight the actor has placed on their own shoulders. Worse, the actor is inviting follow-up inquiries—friends and family asking after the audition, "How did it go?" "Did you get the part?" "You're so right for that role." "There's no way they don't hire you." When the audition doesn't go as well as the actor anticipated, the actor is then embarrassingly reduced to answering the follow-ups with disappointment. The actor may then perceive their work in the audition (or entire career) as a failure.
4. An Hour a Day Towards Future Pay
Maintain a set schedule of one hour per day, five days a week to market your skills as an actor. Give yourself definite tasks to complete. Maintain a home/office workspace and schedule to complete the goals. Here are some ideas:
Update (or create) the website that represents your work.
Research potential employers to reach out to online. Don't just answer current casting notices. Begin reaching out to independent filmmakers, theaters, and advertising agencies (the latter for print and commercial work). Get entertainment employers knowing you BEFORE they need you. You just may save them the cost of future auditions.
Need representation? Send land mail inquiries for when seeking representation. Alex Butler, Senior Legit Agent for Henderson/Hogan, advises actors, "My assistant deletes emails. I open all land mail from actors that reaches my desk."
Read online entertainment industry trade publications. Be informed as to what is happening and discover what is about to happen. Plan as to how to be a part of what projects are going to happen before they begin casting. Set goals. Reach out to the creatives. Get to know them and let them know you.
Responses to your work will be similar to that of marketers who reach out to you—eventual response or no response. There will be immediate responses. There may be responses that come months to a year later, or longer. Give your efforts time. Keep reaching out to contacts already known, while expanding your outreach to new contacts. Dripping water cracks the stone.
5. Get Out
Depression loves loneliness and abhors company. Depression or sadness breeds and thrives on your keeping to yourself. Get out of your living quarters, and out in to life and the world.
Take walks
Wander free museums
Sit in a coffee shop or fast food joint that has free WiFi where you can do your actor marketing and research
Call (don't text) a friend and plan to meet in a park or café. See and hear friends. Let friends see and hear you
6. Avoid Social Media
Facebook, Twitter, Instagram, and other social media platforms are digital petri dishes that foster and grow your comparison worries. Avoid long periods of sustained exposure to social media. Stop watching for, and comparing yourself to, the achievements of others. Your perception of others' successes may not be the happy reality you believe they are enjoying. Focus on what you need to do to achieve your goals.
7. Learn, Grow, Network
Take a class (mine for example) that truly educates and expands your skill set as both an actor and a business. An actor is not only the product but the promoter of the product. The more assets (skills) an actor has the more marketable (employable) is an actor.
While learning, you'll network with actors and other professionals in the business who will inform you of opportunities available to you. You may also gain great new friends.
8. Exercise
Movement forces blood flow, which stimulates brain activity. Increased, continuous movement also diminishes toxins in the body that cause us to be sluggish and depressed. An exercise routine can be as simple as fast-paced walks for 30 minutes to an hour around your neighborhood. Or a solo or group activity at a gym. Move the body and you'll move ahead emotionally.
9. Give Back
This ties back into #2. Volunteer an hour a week at a charity and/or volunteer time and efforts at a theater company or an arts related organization. Helping others in need provides you a sense of purpose, while distancing you from the worries that may be getting a grip on your goals. And while volunteering an arts organization, you may come across someone who needs your skills professionally. Feed your soul by lending a hand to others whose souls need nourishing.
10. Intern
I often joke that I was once the oldest casting intern at age 29. My casting, directing, and teaching career owes much to the foundation of my being that ancient intern. Interning at a casting office, talent agency, or production company brings you closer to knowing professionals as individuals. Entertainment is a people business.
While interning, an actor will have opportunites to witness what fellow actors do that gets a positive response from casting directors and agents—and the actor will see what mistakes actors make that drive away entertainment professionals.
So can you be a happier actor?
Yes. But happiness is relevant to each of our needs and desires. No one's happiness is the same as that sought by others. Once you define what your goal is for happiness, then support and nourish its longevity.
---
Comments
comments